The Ultimate top 5 things to do in Madeira
The Ultimate top 5 things to do in Madeira
The Absolute Top 5 Things To Do
Dive into a lava pool, Enjoy a fiery poncha or a typical Madeiran meal. Walk a levada or swim with dolphins. Book a stay at a peaceful vacation rental with gorgeous views. That is to say that Madeira has it all. The island caters to the zen seekers as well as to the active (even extreme sport lovers).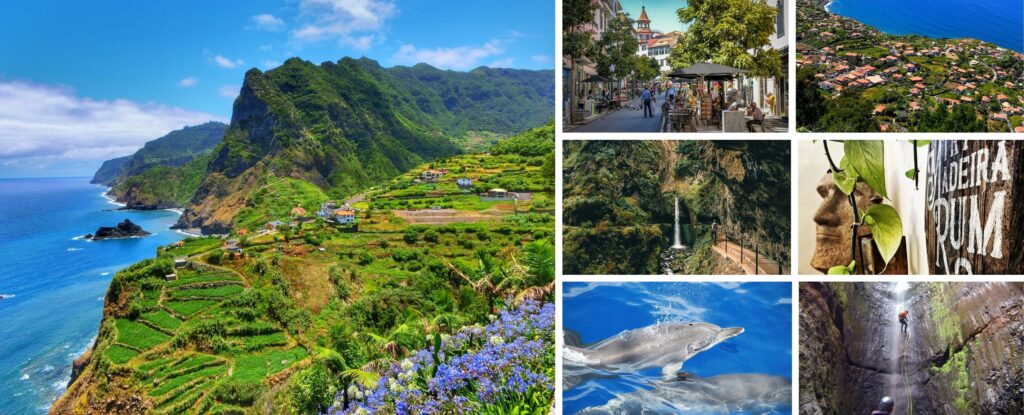 Madeira – What to Expect?
The volcanic island of Madeira is green and lush. Situated in the Atlantic Ocean not too far away from Marocco, the climate is balmy all year around. This makes Madeira a favorite destination across all seasons. It is never too cold nor too warm. Madeira is a favorite getaway for European tourists. The Portuguese Island reveals hip Funchal with touristy hotels like the Lido area. However, exploring the North Coast and its unique black sand beaches, jungle like laurisilva forest, and small villages is a pleasantly low key travel experience. Expect an active vacation. You can combine gorgeous and breathtaking scenery, chic city life in Funchal, Madeira delectable cuisine and drinks, and nature or history or culture related activities. These are no doubt, the ultimate things to do in Madeira!

Our top 5 things to do in Madeira for short breaks or long weekends