The Monte Toboggan Run or Monte Wicker sledges
The Monte Toboggan Run or Monte Wicker sledges
The Monte Toboggan Run or Monte Wicker sledges
When I asked my son's girlfriend whether she wanted to slide down a really steep and almost polished road from Monte to Funchal in a big Monte wicker basket on wooden skis, she thought I was crazy. Monte Wicker Basket rides are, however, one of Madeira's most sought-after tourist attractions.
Funchal – Monte via the Cog Railway
There is a big denivelation between Funchal which is at sea level and Monte (+/-560m). A cog railway was inaugurated in 1893 to carry passengers between Monte and Funchal.
In 1932, a second accident on the railway line labelled the railway as dangerous.  It stopped operating in April 1943.
Wicker Baskets or Toboggan Runs
The Railway is no longer in service.  Thus, in order to go up to Monte, it is nice to take the cable car.  The Funchal Cable Car starts in downtown Funchal (Parque Almirante Reis). During the trip, enjoy the view on the bay of Funchal.  Visit the Monte Tropical Gardens, the Monte Church and then just slide down… a portion of the 560m height difference.  The Carros de Cesto or Wicker Baskets descend two kilometers until Livramento (not downtown Funchal!).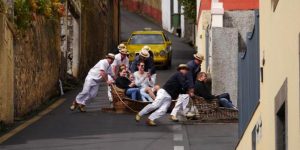 Those famous sledges are powered by two men in white with straw hats, Carreiros, wearing mighty rubber-sole-boots (read soled with a strip of car tire).  The Carreiros mostly steer the sledge with ropes.  Interestingly, these boots also act as breaks and help co-direct the sledge! The surface of the road is shiny due to the heavy sledge passage.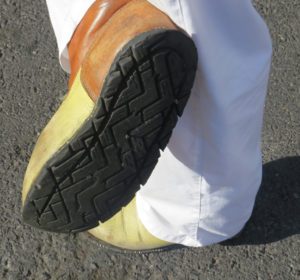 Fascinatingly, this is an ordinary street with car driving alongside the sledges.   CNN even lists them as one of their top 7 coolest world commutes – here
The descend
The exhilarating descend takes about 10 minutes.  It was not invented for tourists but was the actual means of downhill transportation for the wealthy living in Monte starting the 1850ies.  Wicker was already at the time a well-established industry in Camacha.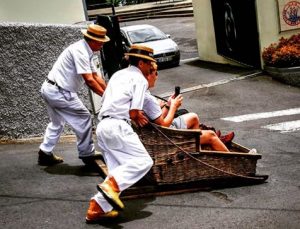 Beware, the Wicker Basket stop their runs relatively early at 6PM!   Furthermore, they are closed on Sundays.  For prices and more details please consult their website. There tend to be queues as this means of transportation is popular.  Furthermore,  and it is a tad pricey.  Bear in mind that the wicker baskets will not get you to downtown Funchal.  You will need to walk (30minutes downhill), grab a cab (do negotiate prices before stepping in!) or jump on the bus.
Most importantly, put your hands up and enjoy the ride…