Festivals on Madeira
Festivals on Madeira
Festival on Madeira
Madeira island is a trendy holiday destination whatever time of year you visit.  However, if you want to make your stay even more unique, you can plan your travel around one of these sensational festivals.
From New Year's Guinness World Record Fireworks to Carnival, Flower or Wine festival, there's always something spectacular happening on Madeira Island.

Here you can our guide to top best festivals and major events in Madeira, including dates.
Top Festivals & Events
The Compadres Feast (or Festa dos Compadres) signals the start of the Carnival season. It takes place in Santana on the North Coast. For the past 50 years, Madeirans celebrate this Festa with great enthusiasm.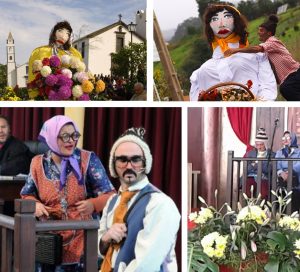 The Madeira Carnival is famous throughout Europe. It is known as one of the best Carnivals's of the old continent. Thousands of participants dance and perform in the streets of Funchal. It is indeed a fabulous parade with floats, music, exotic costumes (resembling those of the Rio de Janeiro Carnival in Brasil) and dancing. It is held every year forty days before Easter.


2023: February 15th to February 26th – the major Allegoric parade is on 18/02/2023
Flowers color Funchal and the island with the arrival of Spring. Flowers blossom everywhere. You can see them in gardens, along the road, in the wild and in backyards. This is a special event filled with the magic of local traditions such as flower carpets to decorate the streets, folk group performances and of course the beautiful flower float parade. It takes place four weeks after Easter.


2023: April 27th to May 21st – the great flower parade takes place on 30/04/2023
The Atlantic Festival marks the beginning of Summer. The event consists of various pyrotechnic shows held each Saturday of the month of June. These wonderful shows start around 10:30PM at the pier outside Pontinha. These shows (firework and accompanying music) last for about 20 minutes: You can enjoy from the mainland (pier) or from the sea. You can vote fo the best show as this is a competition.

2022: 4th, 11th, 18th and 25th of June 2022
2023: 3rd, 10th, 17th, and 24th of June 2023
This Festival is one of the main attractions of Madeira. The entire world knows Madeira for its wines. Many activities and festivities pay tribute to this wonderful nectar. Madeirans still hand pick the grapes and you can participate in the harvest. This one is not to be missed if you like this wonderful and voluptuous drink.

2022: August 28th to September 11th, 2022.
2023: August 27th to September 10th, 2023.
If you come to Madeira for its nature and for its wide array of sport activities, this festival is for you. You will be able to partake in many activities like "levada" walks, canyoning in the waterfalls, mountain biking, hiking, coastering, and much more.

2022: October 4th to October 9th, 2022.
2023: October 3rd to October 8th, 2023.
This is truly a magical period to travel to Madeira. Funchal and the rest of the island wear their beautiful light costumes. The streets, houses, parks are festively decorated with thousand of lights and cribs. Traditional Christmas delicacies are available across the island such as Bolo de Mel, liquors, wine and garlic pork to name but a few.

2022: December 1st 2022 to January 8th 2023.
2023: December 1st 2023 to January 7th 2024.
Madeira hosts a variety of events that run throughout the year, including the world-famous New Year's Eve fireworks, the Flower Festival, Carnival and the Wine Festival.