Beaches of Seixal
Beaches of Seixal
The Praia do Porto Beach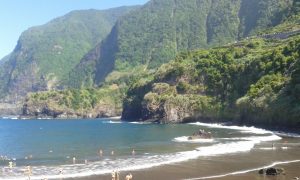 The Praia do Porto do Seixal Beach is a black sand beach. This really is true for all of the natural beaches on Madeira. The dark sand beaches on Madeira Island are born from sea erosion of volcanic black rock. Except for the color, the dry or wet sand has a similar consistency and touch as the white sand most of us know. The video below this post shows the beach in its glorious natural setting. The North-Western coast of the Island of Madeira surrounds this beautiful beach with its incredible landscape. The beach is oriented at an angle. Therefore you can enjoy the spectacular views either from your beach towel or while swimming in the gentle waters, protected by the pier. The pier makes for fairly calm water, so it is a safe beach for small children as well. The beach has no lifeguards, but it is equipped with (very basic) showers.
The Praia do Club Naval do Seixal
The Praia do Club Naval do Seixal is located near the Seixal pier. It is a large natural swimming pool delimited by volcanic rock formations and with a range of facilities.  The natural seawater pool offer lifeguard surveillance during the summer.  You can rent a kayak, or just lounge away in the comfortable chairs of the hip Clube Naval Bar.  We recommend spending at least a few hours here, preferably with a Mojito cocktail.
The Praia da Laje (Jamaica Beach)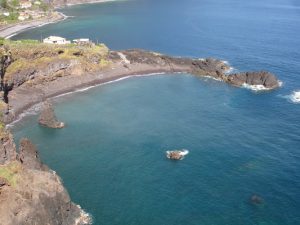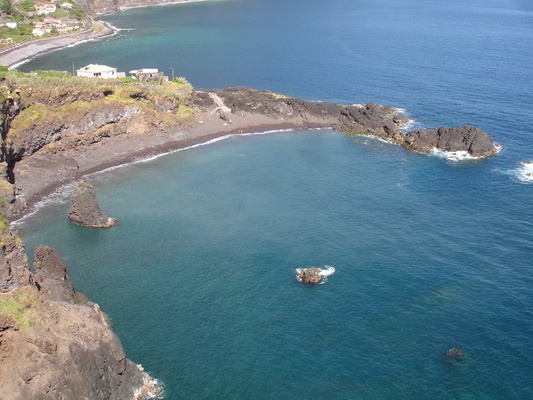 Praia da Laje is also known as Jamaica beach. It is yet another beach in Seixal, which you can access from the other (west-) side of the village. Along the entrance road you see a long pebble beach. Although this beach is also fine for swinmming, fishing or scuba diving, it is not the Praia da Laje itself. The black sand beach is actually near the end of the road, on a hidden bay with sand and partly with pebbles. The place is quite unique and very peaceful. It also offers nice facilities: changing rooms, outside showers and a snack bar restaurant. Lifeguard surveillance during summer.