Miradouro do Guindaste
Miradouro do Guindaste
Guindaste Viewpoint
The Guindaste Viewpoint offers a wonderful view of the Atlantic outlining the northern eastern coast of the island, extending from Faial to Ponta de São Lourenço. It lays in the Ribeira do Faial delta in Faial which belongs to the municipality of Santana. This miradouro is sometimes called Crane Viewpoint.
On days with good visibility, visitors get a wonderful view of Porto Santo Island.
This viewpoint is particular as it exposes the coastal geology with its different shades from ochre to brown and black rocks. Furthermore, it is easy to admire the famous Penha d'Águia and the pebble beach below.
Guindaste viewpoint is also perfect for sunrise romantics. This is the ideal spot to see the sun rise above the ocean and kiss Madeira good morning. Come with your best photography gear and tripod to get that perfect picture. We suggest arriving approximately half an hour before sunrise. That way you will find the perfect spot and enjoy the magical pre-sunrise colors. These can be enchanting and surprise you with an array of colors going from red to orange to rose to golden and sometimes even purple.

A new attraction is born
The municipality of Santana invested over 600 thousand euros in 2022 to install two suspended glass platforms over the sea. This reminds visitors of the suspended glass platform at Cabo Girao. However, if you are afraid of heights, you can still enjoy the beautiful views without walking on the skywalk.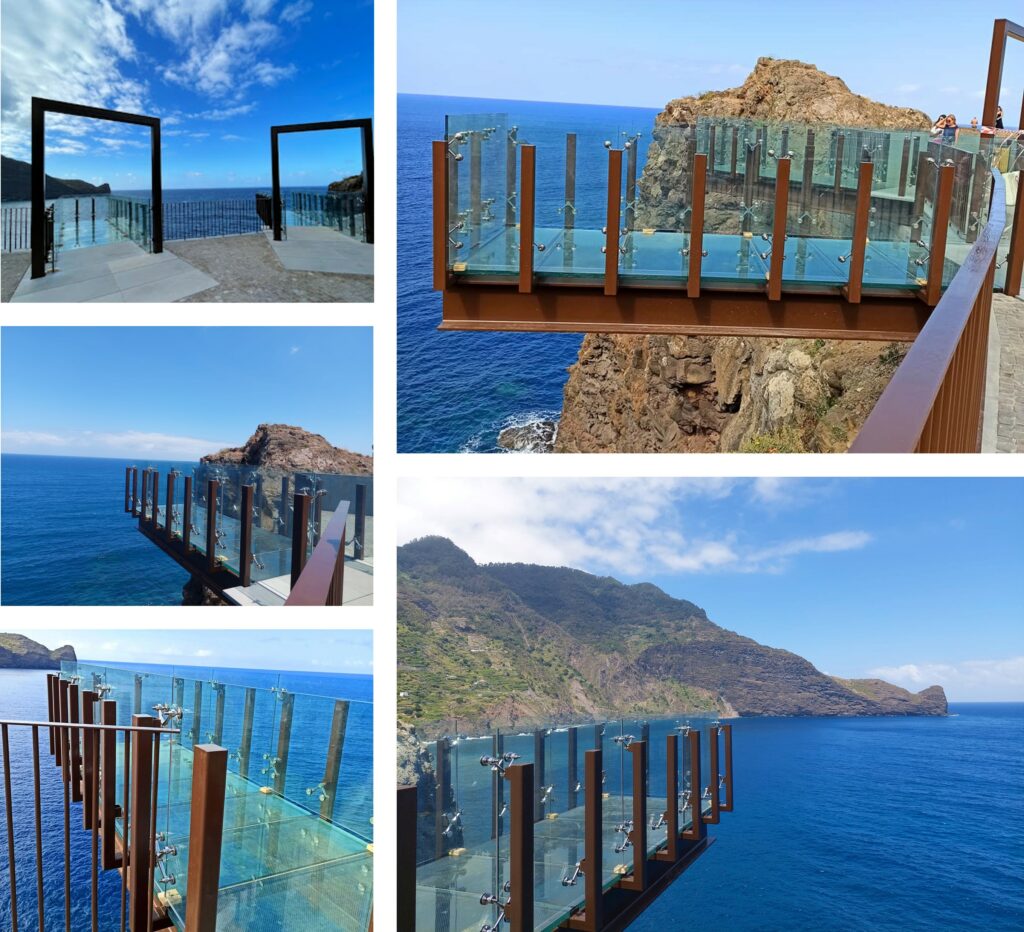 Sure Footed
For those without vertigo, you can venture outside the newly refurbished viewpoint by taking the exit on the right. You can then follow the little path onto the small and narrow headland that sticks out above the ocean.

Other Miradouros
If you would like to visit other beautiful viewpoints or miradouros, simply follow these links to our previous posts. North Coast Miradouros & South Coast Miradouros & Funchal Viewpoints.
How to find the Guindaste Viewpoint
As you can see on the above map, the recreation area of Faial is really close to the Miradouro. So you can decide to take a swim or go for round of karting or rollerskating.