Karting on Madeira
Karting on Madeira
The Faial karting circuit – Kartódromo do Faial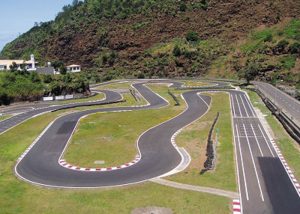 Karting is a fun adrenaline infuse activity to enjoy with friends or family.  It can improve your reflexes too.  The tracks are always alternating straight speedy portions with tricky turns and twists.  Karting can help you connect with people and may bring your family closer if you run in teams for example.  Driving a kart helps build confidence and is a great team building activity.  Furthermore, karting can also be fun for nearly all ages.  Madeira has one track and in the parish of Santana, on the north coast of Madeira, in a beautiful cove. The Faial track is 1040 meters long and has everything for true karting aficionados – bends, stretches, technical challenges, fast corners and more.
The karting track is the perfect place for some fun with friends or family.  The Faial Go-Kart circuit welcomes official and private competitions. With areas of fast lines and curves, it's a choice of fun and plenty of adrenaline.
Opening times
Winter (Nov. Dec. Jan): every day from 10:00 to 18:00;
Summer (February to October): every day from 10:00 to 19:00.
How to get there
We recommend calling before driving to Faial.  The kartodromo is closed while it rains or shortly after a rainy episode.
It is situated next to the balnear area of the same name, so you can relax on the pebble beach after your karting session.
Zona Balnear da Foz da Ribeira de Faial,
9230 Foz da Ribeira de Faial,
+351 919 497 224