Best accessories or gift ideas for Travel lovers
Best accessories or gift ideas for Travel lovers
Traveling to Madeira or elsewhere?
Seeking the perfect gifts for friends and relatives who loves to travel?  Searching for that special accessory which will make your travel to Madeira or elsewhere more enjoyable?
Whether you are an occasional traveler, an avid adventure seeker or an international jet-setter, here are some great ideas for yourself or for the gift of your loved ones.  These are randomly listed.
Sandless Beach Mat CGear
Have you ever been on a beach and taken more sand home than you would have wanted?  The Sandless Beach Mat by CGear are ideal if you want to make a sand free environment at the beach or for picnics.  It is ideal for Seixal's black sand beaches.  The mat consists of two sand-permeable layers.  The sand seeps through but not back up!  This technology is derived from helicopter pads where these mats prevented dust/sand clouds.

SafeGo – Portable Safe
You like to surf, swim, sup, golf or other while on vacation?  What can you leave you ID, mobile phone, watch, rental car and vacation rental keys?  Safego is a portable safe lock box which easily attaches to beach or public furniture.  It is neat looking, durable and lightweight.  Look you personal belongings in a Safego and enjoy your water sport or activity.

Pocket-Size Washing Machine
Whether you travel light or long, this Scrubba Washbag will always come in handy.  It is equipped with a flexible washboard (integrated scrubbing nodules) which makes it twice as effective as a handwash.  Furthermore, it will help you do your laundry anywhere (no power/electricity needed).  How about washing your sports apparel right after use?  With only 2 to 4 liters of water and a bit of laundry soap, you will have clean clothes in less than 5 minutes.  This is definitely a great buy is you venture off the beaten path or if you want to wash you sports gear right after use.  If the price exceeds your budget, think about taking a drybag on your trip to use instead of this rather expensive scrubba.


Noise-Canceling Headphones
We have all experienced a flight where we had to endure the screams of young children, snoring or loud seat neighbor and the constant whine of the airplane.  Endure no more with noise-canceling headphones. Several brands lead the market such as Bose QuietComfort Series Acoustic Noise Cancelling Headphones and Sony WH1000XM5 for example.  There are obviously other brands out there!

SkyRoam Solis – Global WiFi Hotspot
Afraid of roaming charges and foreign SIM cards?  Worry no more!  The SkyRoam Solis is one of the best mobile Wi-Fi Hotspots on the market.  It is a great alternative to expensive data plans while travelling abroad.  SkyRoam Solis delivers a virtual SIM with nearly 200 operators around the world.  This allows you to surf without using a local SIM.  It is fast and can connect up to 5 devices at once.  It also doubles as a battery pack to charge your devices.  With 8EUR per day, you can roam with unlimited data during 24hrs nearly anywhere in the world.  Hence, you never have to worry about going over a certain data limit.

Female Device – GoGirl
This Female Urination Device is not glamorous, but it will most certainly help any lady encountering unsanitary or dirty toilets while abroad.  This handy device conforms to a lady's body to allow for peeing standing up comfortably and discretely.  It is made of soft medical-grade surgical silicone and can provide welcome relief.  GoGirl comes with a handy reusable storage tube with baggie and tissue for discrete storage and cleaning.  GoGirl is small enough to fit in most purses.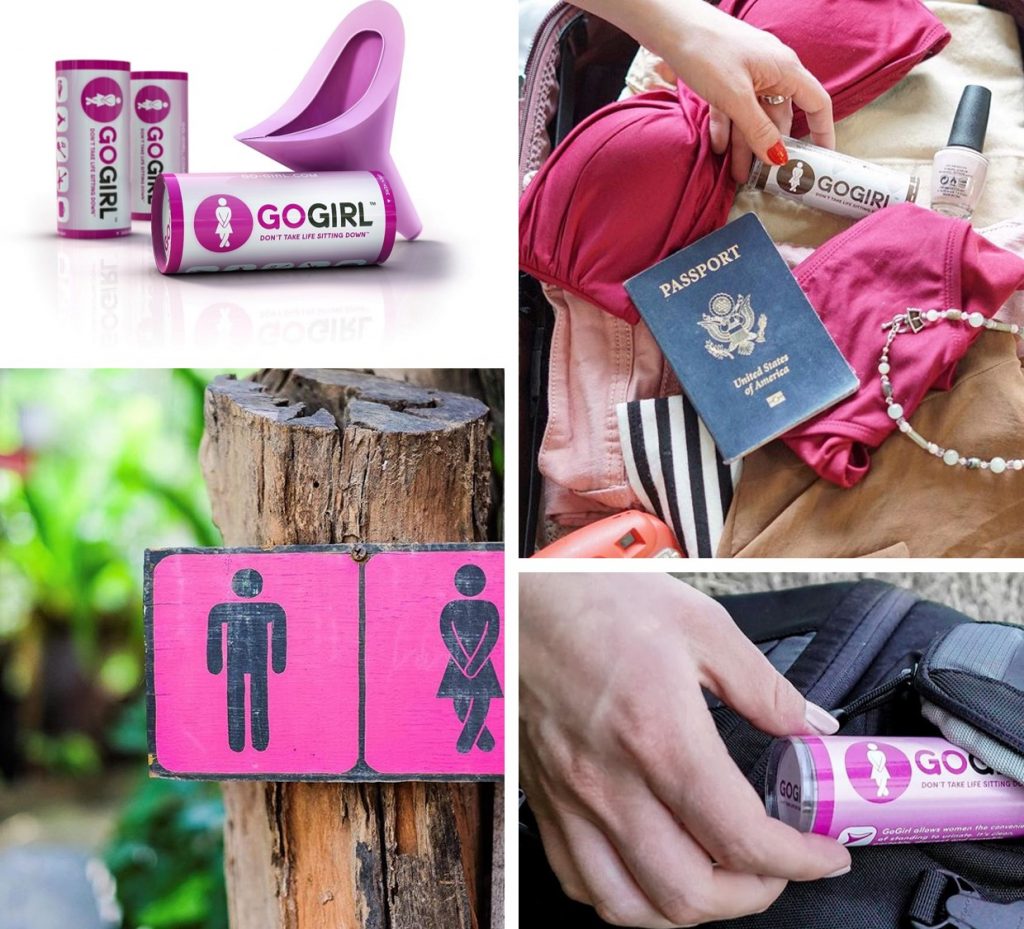 Luggage Scale
There is nothing worse than arriving at the airport and being charged excruciatingly at check-in because your suitcase is too heavy.  If you find it hard to evaluate the weight of a suitcase, then a luggage scale could be a handy gadget to take along.  There are many models out there; some are battery operated and some do not need any batteries at all.

An RFID Wallet or document carrier
If you want to keep your personal information (credit cards, ID cards and other chip cards), look for a RFID proof wallet or document carrier.  The RDFID barrier prevents skimming tools (easily available over the internet) from stealing your personal and bank information.  This is particularly important if you have contact-less bank cards.  Should you not want to purchase a new wallet, you can find RFID blocking sleeves and sheets to protect your current one.

Private Internet Access VPN
A VPN (Virtual Private Network) might not be what you think of first when packing for an overseas trip.  However, there is no better way to keep your internet connections secure and protected.  A VPN can also unblock sites to which you would not normally have access due to geographic locks.  Should you want to see your favorite web pages like at home in not in a foreign language, then this might be a handy solution.  Here is one such company
Garment Folder or Smart Envelope
A Garment Folder will help you neatly fold and pack your clothes.  They will remain wrinkle free even if your suitcase is thrown about.  The garment folders come with a folding board to help you fold your shirts, etc.