Terra Bona Family Harvest, 2017 – A wine made in Boaventura
Terra Bona Family Harvest, 2017 – A wine made in Boaventura
Wines

Madeira Island is famous for its fortified wines which win many prizes year after year. The island is unfortunately much less known for its table wines. So when a wine – Terra Bona Family Harvest – produced in Madeira, on top of that on the North Coast of Madeira in Boaventura wins a prize, we have to write about it.
Grapes
Arnsburger and Verdelho. Arnsburger is a white variety grapes. It originates from Germany. Heinrich Birk created the grape variety in 1939 by crossing two Riesling varieties (Muller-Thurgau and Chasselas). In 1984, Arnsburger made it onto the official list of German Grape varieties. Nowadays, Arnsburger grapes are mostly found on Madeira and New Zealand.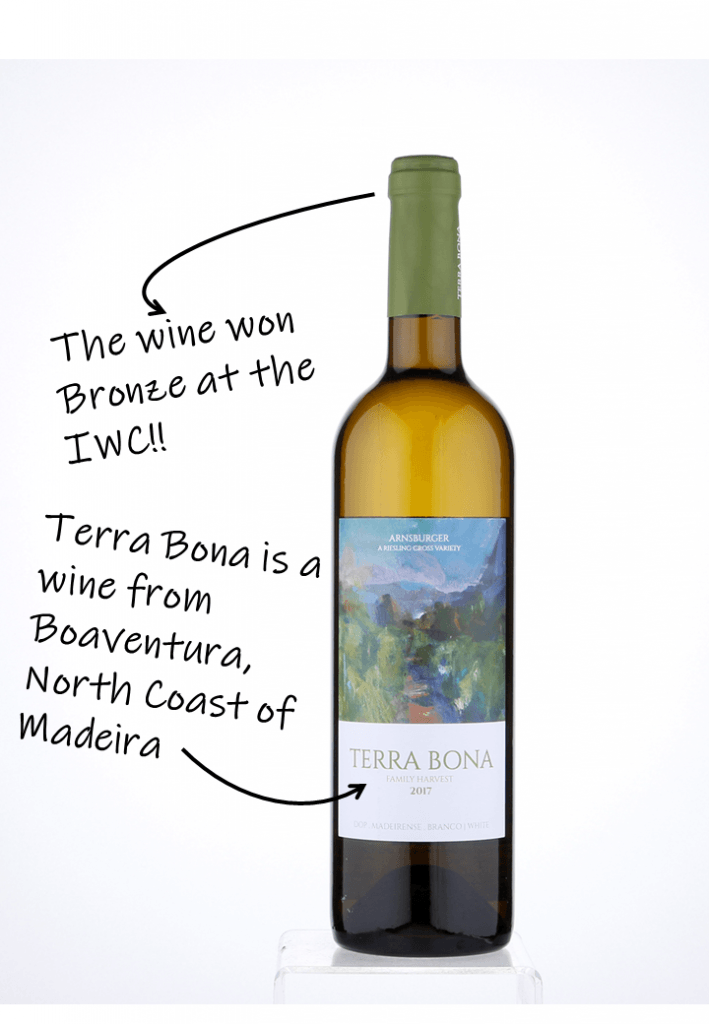 Facts and information
• This wine is born from a family dream taking place in the parish of Boaventura on Madeira. Hence, only 3000 numbered bottles are produced in this sunny and protected vineyard tucked at the foot of the Laurisilva forest.
• The owners are converting their land into an organic vineyard. Hence, they apply biological practices to the soil and their grape-bearing vines.
• Terra Bona Family Harvest, 2017 won the bronze medal in the International Wine Challenge (IWC). The IWC is, apparently, the world's finest and most meticulously judged wine competition. Consequently, the reputable judges taste all wines blind on three separate occasions.
• In fact, Terra Bona is latin for terras de Boaventura – Good soil.
• Tony Kitchell, a surfer and professional artist, is sharing his time between Wales, UK and Madeira. He designed the labels of the Terra Bona wines.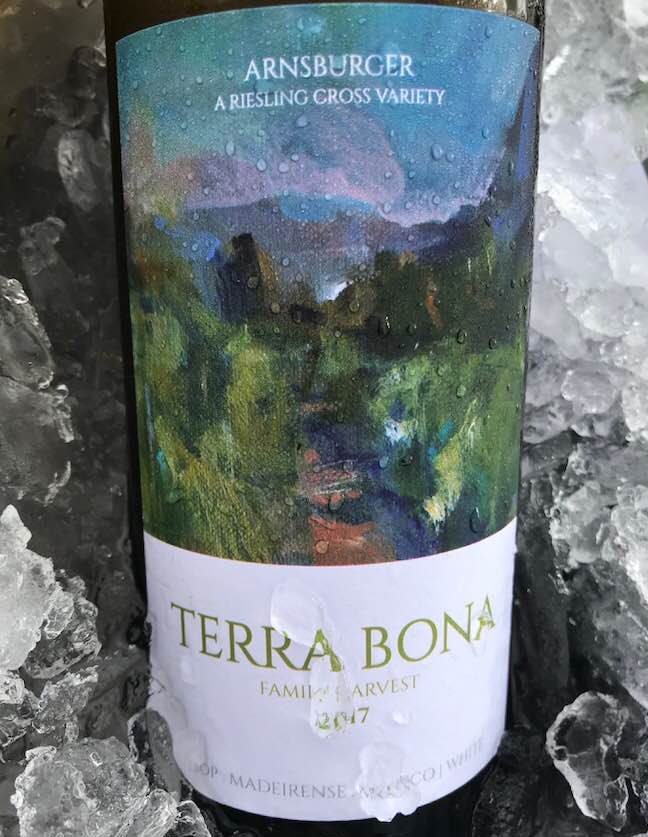 Taste
The initial impression of this Terra Bona Family Harvest 2017 is very fresh. The wine is bright and clean with notes of juicy lemon, grapefruit, lime leaves and ginger spice. It finishes clean and crisp with actually quite an impressive and elegant finish.

Pairing
Enjoy this great wine with seafood (lapas also known as limpets or shrimps) or light pasta dishes such as pasta with scallops, shrimps etc.
Tip
If, while staying at MadeiraCasa or Casa do Miradouro, you park your car at the foot of the Entrosa walk, you drive past the vineyard of Terra Bona.
To order this fabulous wine: Terra Bona
Update 06/06/2019 – two more awards
We are very happy to announce that Terra Bona Family Harvest 2017 won two more rewards since the blog was written.