Madeira Fruits: Maracuja Passion Fruit
Madeira Fruits: Maracuja Passion Fruit
Passion Fruit – Maracuja
There are about 4 to 500 different sorts of Passiflora (or Passion Fruit) in the family. Some are edible but not all. The most popular is the Passiflora edulis. Its fruits can be eaten fresh or used to make juices, drinks, jams and many different deserts.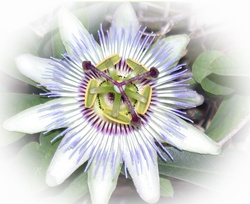 The passion fruit is born on thick, vigorous and fast-growing vines. They are native to South America. Furthermore, these vigorous and rapid climbers can supply shade and bear many fruits. The gorgeous and colorful flowers definitely have a tropical look. Passion fruit vines are relatively easy to grow.

In most of South America, people harvest the roots and leaves of the plant to make tea. According to their beliefs, this tea treats epilepsy, hysteria and insomnia. It can also soothe pain. In Europe's ancient times, the plant used to calm nervous symptoms, anxiety and angsts.
There are several varieties of Passion Fruits available on Madeira.
Purple Passion Fruit
The purple Passion Fruit (Passiflora edulis) is the most common one.  It grows well in tropical and sub-tropical climates.  The fruits are oval or round in shape and about 4 to 6 cm in diameter.  Their color goes from green to deep purple when ripe.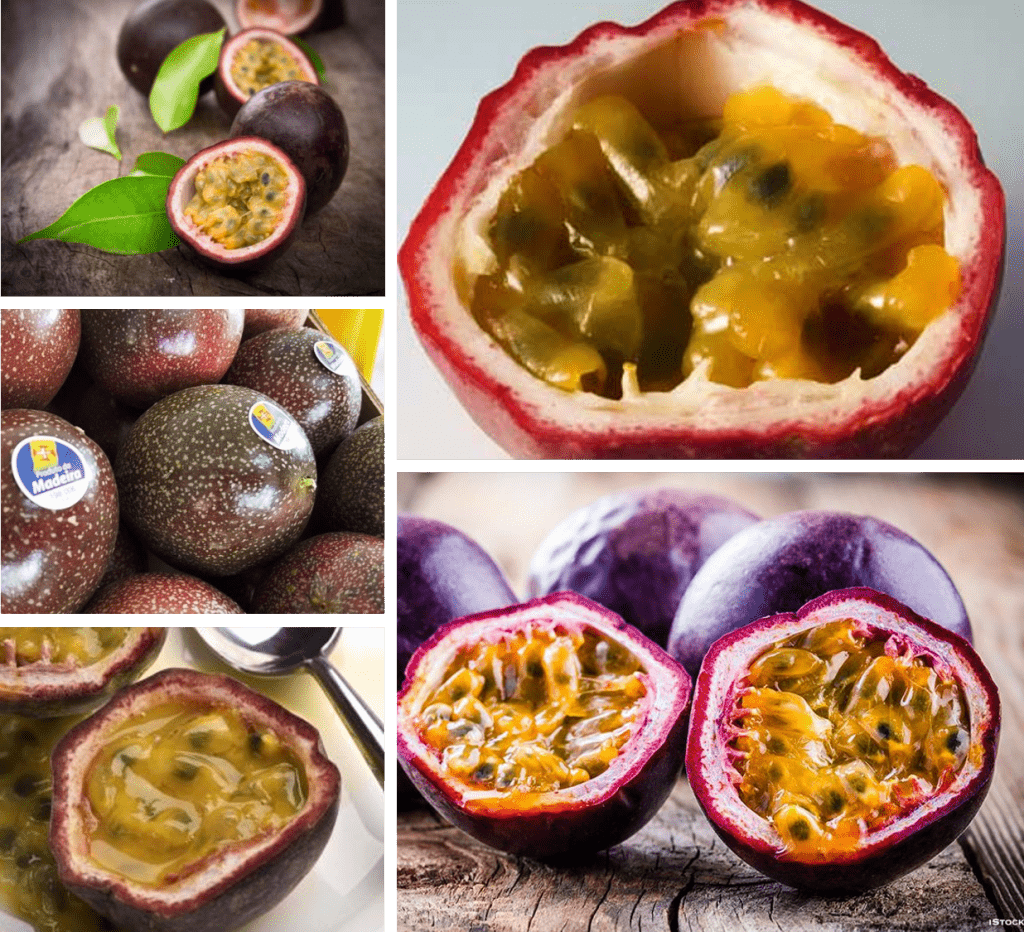 Yellow Passion Fruit
Next comes the yellow Passion Fruit (Passiflore edulis var flavicarpa).  This variety is more vigorous than the purple one.  The pulp is also very aromatic but slightly more acidic.  Its fruits turn from green to yellow at maturity.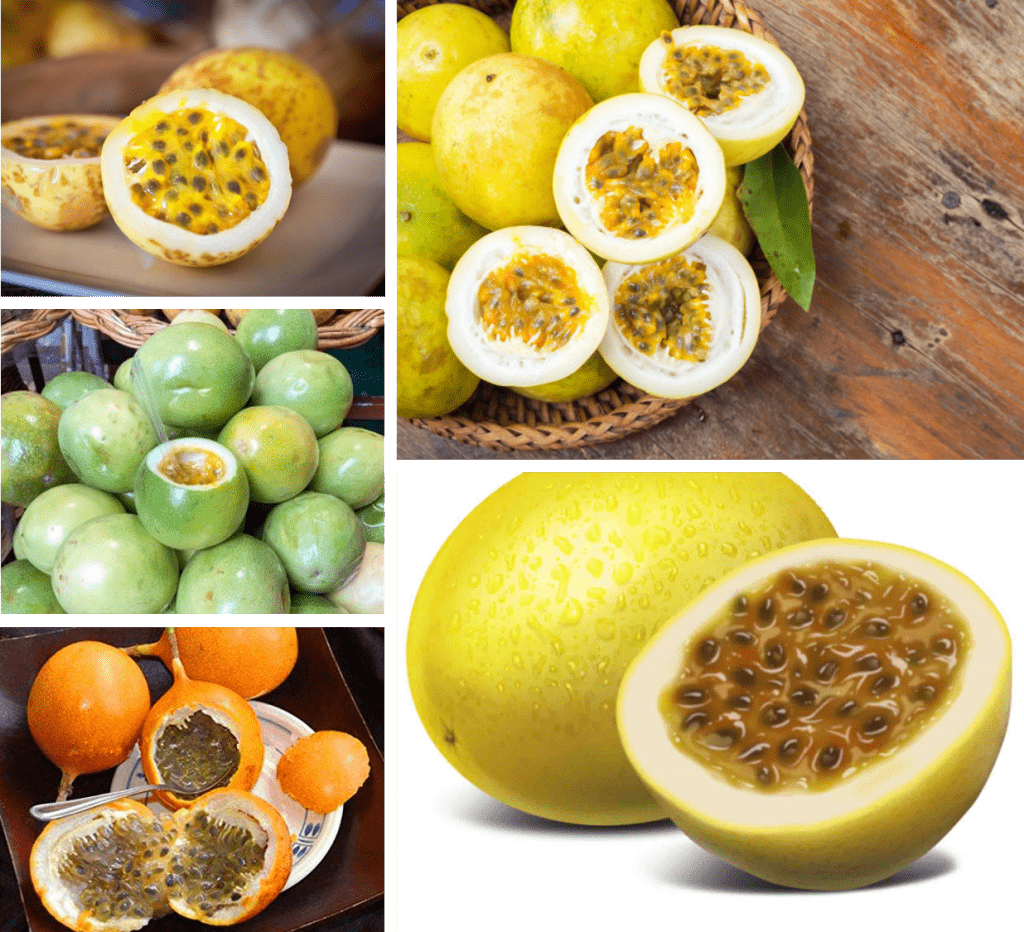 Banana Passion Fruit
Another common variety on Madeira is the Banana Maracuja (Passiflora mollissima). The fruits are oval in shape and the skin is yellow. The pulp is orange. This variety is less esteemed than its purple cousin. Hence, it is often used to make juice. This rapidly growing plant is regarded as invasive.

Other Passion Fruits
Other varieties include the lemon passion fruit, the orange passion, etc. You can see all varieties together at the Mercado dos Lavradores in Funchal. Attention: The Mercado is a great place to take pictures and see the variety of fruits and vegetables. Above all, the prices and the attitudes of the sellers are scandalous. Therefore, we suggest you only look around. Hence, do not touch or try any of these fruits even if offered to you. You can find all these fruits at the local supermarkets for a fraction of the price.

Many uses
Passion fruits are common on the island. Thus, there are used in many traditional dishes and drinks. Madeira's most common desert, namely the Pudim de Maracuja or a passion fruit pudding, is a real must try during your holidays. Passion fruit sauces are a nice addition to certain local sweet or savoury dishes. Furthermore, you can find Poncha de Maracuja or Passion Fruit Poncha which is a nice variation from the original one. Madeirans make an excellent liqueur with this fruit. It is mostly served around Christmas time.
Healthy Passion Fruit
Passion fruits are Rich in vitamin A excellent for the health of the eyes.
These fruits are an excellent source of fiber (Source). 250ml of fruit pulp provide about 98 percent of a person's daily required fiber intake. Fibers facilitate digestion and healthy bowel movements.
Potassium is an important vasodilator. It may increase overall cardiovascular health. Furthermore, Potassium maintains a balance of fluids on the cells. (Source)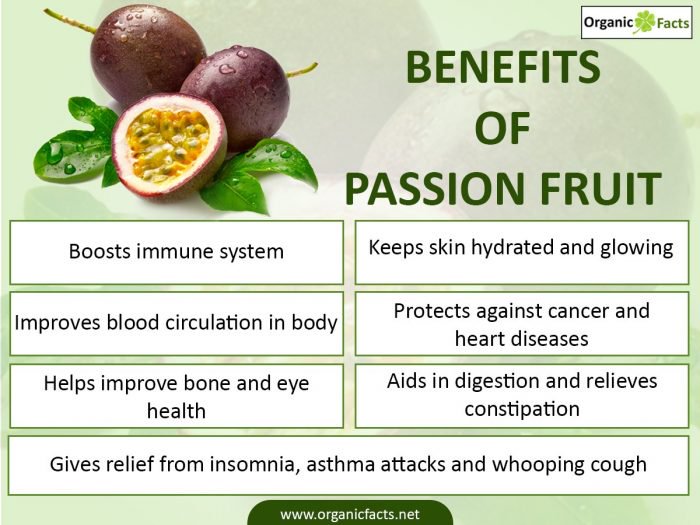 Sources for more health uses: Here