Pudim de Maracuja or Passion Fruit Pudding
Pudim de Maracuja or Passion Fruit Pudding
Passion fruit or Maracuja is one of the most popular fruits on Madeira next to Bananas.  Passion fruit is famous for its exceptional flavor and for its many uses.  It can be sliced open, spooned out and eaten fresh or used in Poncha for example.  It is also present in the Brisa Maracuja, a fresh sparkly drink made and bottle on Madeira and cakes.  However, the most emblematic desert on Madeira is the Pudim de Maracuja or Passion Fruit Pudding.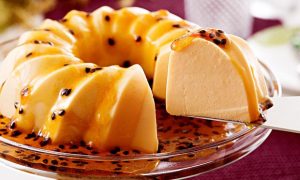 Here you will find one of the many recipes for this famous desert or sobremesa as they call it in Portuguese.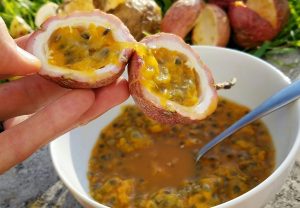 Ingredients
1

litre

of cream (full or semi-skimmed)


1

tin

condensed milk

14Oz. or

397g

500

g

passion fruit pulp

(the pulp of about 10-12 passion fruits)

8

leaves

of

gelatin
Instructions
Mix together in a bowl the following three ingredients until well blended: the cream, condensed milk and passion fruit.
Melt the gelatin in a bowl with a cup of warm water, add each leaf one at a time with care.
Once the gelatin is liquid you can add to the cream mixture stirring it in well.
Pour the mixture into a large crown like recipient, a bowl or 8-10 individual serving bowls, and leave in the fridge for about 4 hours until fully set.
We suggest you use the pulp of the last 2 passion fruits to cover the top once set.
You can use this method with any other fruit pulp, just replace the passion fruit. Raspberries, strawberries, mango all work well, just pulp the fruit down.  However, on Madeira, use Passion Fruit…