Best Restaurants with a View
Best Restaurants with a View
If you are looking for the next place to eat or have a drink on Madeira, look no further, especially if you are looking for restaurants with a view.
It is no secret to anyone that Madeira has some of the best views to offer with splendid nature and landscapes. After a long day of hiking along the levadas, exploring the rich surroundings and learning about local culture, there is nothing better than having dinner or sipping on a drink whilst observing the beauty of Madeira from a restaurant's dining room or terrace. Here, you will find a list of the best restaurants with a view on Madeira island.
1. Belmond Reid's Palace
Belmond Reid's Palace is highly spoken of, and we can understand why simply by looking at their dining service. If you want to enjoy a lovely meal or afternoon tea, the Belmond Reid Palace has two options for you.

The Ristorante Villa Cipriani serves delicious Italian food on their "alfresco terrace". Perfect if you want a taste of Italy whilst vacationing on the pearl of the Atlantic.
The hotel also has a terrace dedicated to afternoon tea with a gorgeous view on the ocean. You will be able to choose from 24 types of teas, scones, finger sandwiches and pastries.
2. The Vine Hotel
For an impressive view over Funchal, look no further than the Vine Hotel's 360° Sky Bar. The Vine Hotel is focused on food and wine (as the name indicates), so no need to search anywhere else if you want to discover and taste local wines from what's definitely one of the city's best rooftops.

3. Castanheiro Boutique Hotel
With its infinity pool, the Castanheiro Boutique Hotel also has a unique rooftop with a beautiful view on the historical center of the capital. An ideal spot if you want to have a drink with a view on the Imperial Cathedral with the ocean in the background.

4. Quinta do Furão
Located in Santana, on the North coast of Madeira, the charming Quinta do Furão has a peaceful terrace with an outstanding view. Enjoy delicious local food outside surrounded by some of Madeira's highest mountains, next to the Rocha do Navio natural reserve.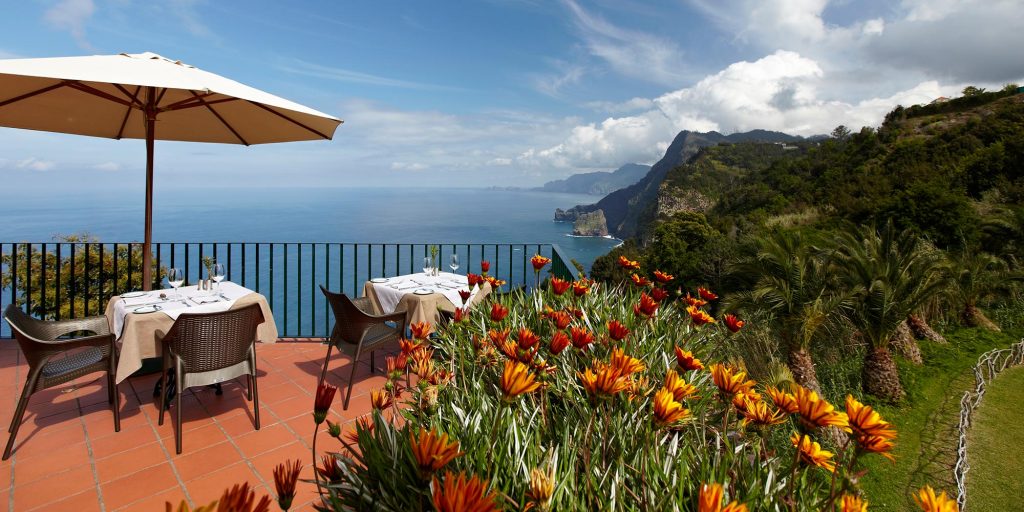 5. Quebra Mar
São Vicente's Quebra Mar is a rotating restaurant which allows its guests to observe the North coast from all angles. The view on the shore is gorgeous, and the traditional food is also definitely worth it.

6. Restaurante Many
Restaurante Many in São Vicente has a more modest and smaller terrace, but it is nonetheless very cozy, and part os if it covered by grape-bearing vines, and offers a great view on the ocean on the North coast. Ideal for a refreshing Coral, glass of wine or coffee with a view.
7. Restaurante São Cristóvão
Located right in front of one of the island's most beautiful viewpoints, the São Cristóvão restaurant in Boaventura is a must if you want to dine like a real Madeiran. A great place to relax, drink and eat after an impressive coastal hike.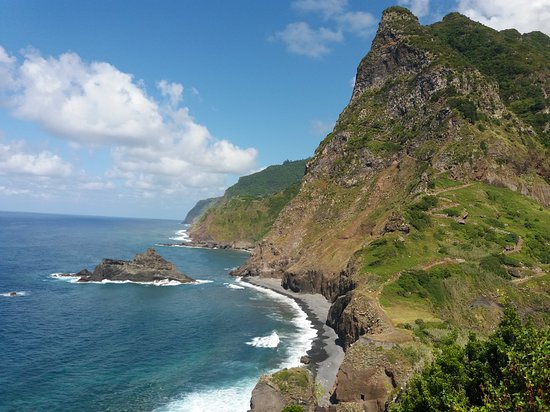 8. Pestana Casino Park Hotel
The Pestana Casino Park Hotel offers a view of the Bay of Funchal. The terrace is also surrounded by a garden, for ultimate relaxation. This is also a great place to observe the sun set as the day ends.
9. Estalagem do Ponta do Sol
This list would not be complete without the Estalagem do Ponta do Sol and its spectacular ocean view. Located on top of the cliff, there is the option to either go on the outside terrace or to stay inside in the veranda.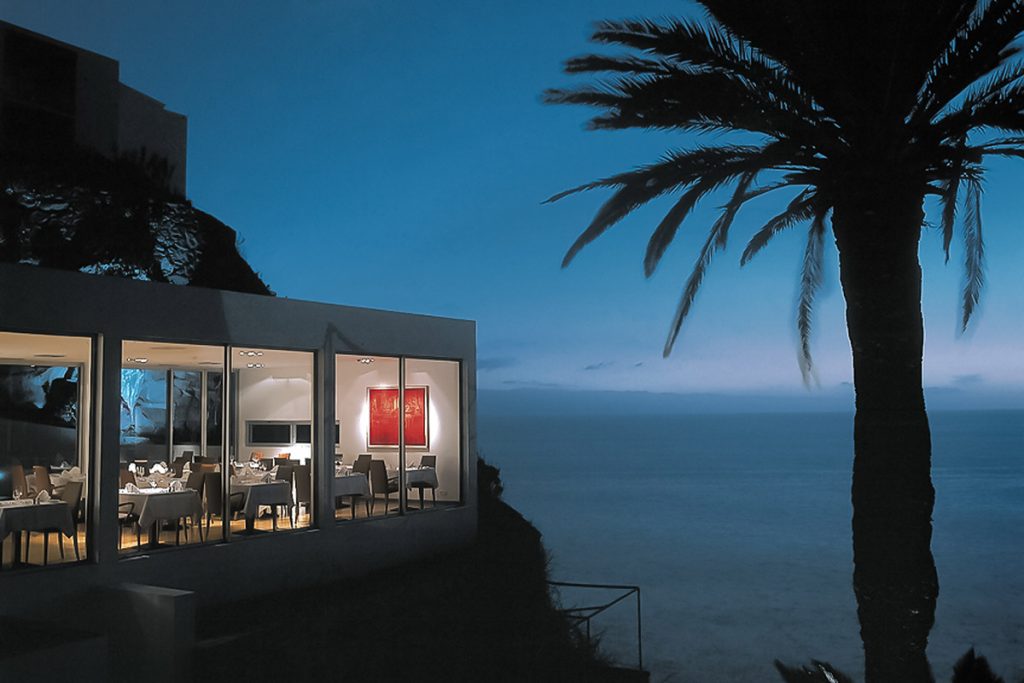 We look forward to discovering new restaurants and bars to update this "Best Restaurants with a View" list!