Recipe: Madeira marinated pork – Porco Vinha d'Alhos
Recipe: Madeira marinated pork – Porco Vinha d'Alhos
What is it?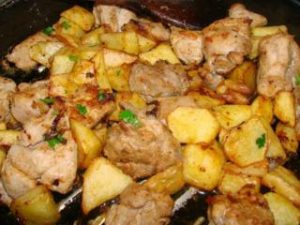 Porco Vinha d'Alhos – marinated pork. This is a fantastic and typical wine and garlic marinated pork recipe from Madeira. It is mostly served around Christmas but can be found any time in Grand Mother's kitchen. Unfortunately, it is more difficult to find in restaurants. Hence, there are as many recipes and variations of this delicious meal as there are grandmothers on Madeira… The meat needs to marinate overnight, so start the preparation on the day before tasting.
Ingredients
2KG of pork shoulder or butt
5 cloves of garlic freshly minced
1 tablespoon of sweet red pimento paste
150ml freshly squeezed lime juice
250ml white wine
1 tablespoon piri piri hot sauce
1 teaspoon of salt
2 tablespoon of oil
Preparation
Instructions on day -1 (the day before cooking):
In a bowl, add the minced garlic, pimento paste, lime juice, white wine and piri piri sauce.
Mix well until the salt is completely dissolved.
Cut the pork into large bite size cubes
Mix the pork cubes nicely with the wine and garlic mixture. Make sure all pork cubes are well coated with the mixture. Cover and let it marinate overnight in the fridge.
Instructions on cooking day:
Heat a large deep-frying pan until medium high temperature
Pour the meat and marinade into the hot pan
Distribute the meat and marinade evenly
The marinade should simmer slowly. Turn the pieces of pork regularly.
The marinade should reduce substantially.
When ¾ of the marinade has reduced, add the oil and fry the pork chunks until golden brown.
Pour into a serving dish.
Serve with potatoes and cooked vegetables or sweet potatoes according to taste. A good glass of wine from Madeira perfectly rounds off this special dish.
Enjoy! Bom apetite a todos !