Ricardo Veloza, a Sculptor on Madeira
Ricardo Veloza, a Sculptor on Madeira
Sculpture
A sculpture is any artwork made by the manipulation of materials of all kind resulting in a three-dimensional object. Certainly, it is the oldest form of art known to mankind. Sculpture can be freestanding, self-supported or hanging in relief. For instance, sculptures decorate cities and often tell a story or act as a reminder for significant occasions.
Ricardo Veloza, A Sculptor on Madeira
Ricardo Veloza is one of the most prominent sculptors in Madeira. He saw the light in Rio de Janiero, Brasil on January 3rd 1947.  His work embellishes both Madeira Island and Porto Santo.  According to the Mr Albuquerque, President of Madeira: «He is a multifaceted man, in the field of sculpture, drawing, medals and even advertising. Hence, he is a complete artist».
This famous Madeira Sculptor holds a degree in Sculpture by the Academy of Fine Arts of Madeira. After that, he was Professor at the Higher Institute of Plastic Arts of Madeira. He certainly is the author of several sculptures, among which we highlight:
Artwork
Porto Santo
Madeira

Autonomy of Madeira – Monumento à Autonomia;

Madeira Revolt in 1931 – A Revolta da Madeira de 1931;

Madeiran Combatant Overseas – Combatente Madeirense no Ultramar;

Workers' Monument – Monumento ao Trabalhador or Anjo Caído

The Tourist – Monumento ao Turista;

Cristiano Ronaldo (placed next to the footballer museum at the entrance to the city of Funchal) amongst others.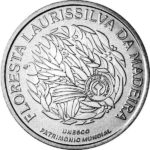 Furthermore, Ricardo Veloza is the author of over 80 medals. He also created the € 5 coin dedicated to Madeira's Laurissilva Forest.

He was also president of the Madeira Embroidery, Tapestry and Crafts Institute (1997-2003), regional director of Cultural Affairs (2003 and 2004) and responsible for the Casa das Mudas Arts Center, in Calheta, (2004-2010).
Map – where can you see the artwork?
In conclusion, do enjoy strolling in and around Funchal while discovering the many sculptures of Ricardo Veloza.