Camacha Wicker Work on Madeira
Camacha Wicker Work on Madeira
Camacha and wicker work on Madeira
Willow trees grow prolifically along the many Madeira creeks. The areas of Sao Vicente, Boaventura and more importantly Camacha produce the willow rods.

Wicker and Willow Rods
It is mainly during the first months of the year that farmers collect the willow rods to made wicker work. These rods go through a process of peeling, bundling for transport and finally boiling. This boiling phase give extra flexibility and elasticity to each rods which eases the wickerwork. The boiling process also confers the typical brownish or darker color. These rods come in a variety of different sizes.

Camacha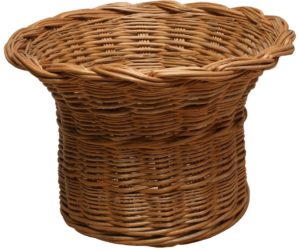 The wicker industry started in the 1850s in Camacha. This parish is still the wicker capital of Madeira. In the early days, household goods, furniture or agricultural utensils were produced. For example, "barreleiros" baskets were made by hand in Camacha for the levadeiros. These typical baskets carried tools and debris found in the levadas. The famous conical baskets also transport grapes or agricultural produce. Today, the industry changed and produces Camacha Wicker goods and artifacts mainly destined to tourists.
From Small Decoration to Monte Wicker Sleighs.
Skilled hands create a wide variety of objects ranging from small decorative articles to the massive Monte Wicker Sleighs.

El Relogio
The entire wicker production comes from Camacha nowadays and more precisely from El Relogio. This place is on the central square of Camacha. You can visit it. There are three stories. The top florr is a café restaurant. The middle floor is a store where you can buy vime or rattan products and all things Madeira. In the bottom floor, you can admire craftsmen and women at work. If this type of work interests you than it can be interesting. Most, however, find it a bit dark and dusty.

Future?
It seems however that the art and skills to create traditional Madeirense vime objects is slowly dying out. Hence skilled artists are forming young new talents to maintain the skills and the knowledge for the generations and years to come.
Where is El Relogio?