Activities on Madeira – tested and approved
Activities on Madeira – tested and approved
Activities on Madeira: tested and approved.
You just arrived on Madeira, and despite attempting to plan your stay minutely, you are still not too sure about what to do. Well worry no more, here is a list of tested and approved activities not including the famous levada walks.
NB: some of these activities will be more or less family-friendly – (obviously) only do what you feel comfortable doing.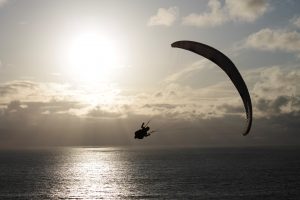 Paragliding in itself is already quite an activity. This adventure sport can seem to be out of most people's comfort zones, when in reality it conveys a feeling of freedom one can only taste when up in the air. Who would've thought that being attached to a harness suspended below a fabric wing could bring both the tranquility of contemplation as well as a boost of adrenaline.
When flying with an instructor, you can truly take your time to observe the beauty of Madeira from above: from the beautiful coast and deep blue water to the forests up in the mountains.
For more info, contact Hartmut Peters. Hartmut Peters is one of the most experienced paragliders in the world.
Catamaran tour
A boat tour is always a good idea when staying on an island, whether you're staying with your family or travelling in a couple. Catamaran tours enable you to explore the Atlantic Ocean while also giving you the opportunity to observe the Madeiran coast from afar. It is not rare to come across the path of dolphins, sea turtles and whales along the way, giving you the perfect moment to improvise a marine photoshoot.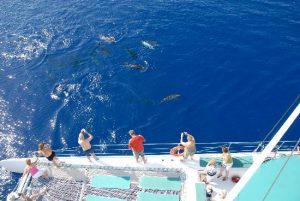 For more info, contact one the various Catamaran companies on Madeira:
• Sea Born
• VTM
Zodiac boat tour
Zodiac boat tours give another unique approach to sea life. In this case, you are able to approach sea creatures (such as dolphins) while maintaining a respectful distance from them. The lucky ones will also be allowed to get in the water while holding onto the boat, giving the impression you are a part of a school of dolphins. This close encounter with those friendly creatures will not leave you indifferent.
For more info, contact Rota dos Cetaceos
When visiting Monte, it is more than likely that you will stumble upon other tourists in the middle of a curious toboggan ride session on the streets. On their downhill journey, two men dressed in traditional clothing push and guide the wicker sleigh. This is a safe activity to try if you want an adrenaline rush! These wicker basket rides start at the foot of Monte's church and stop in Livramento.
Fajã dos Padres was inaccessible… but that is no more! The cable car installation now allows you to go explore the coast. The cable car ride costs 10EUR per person over 11 years of age. Fajã dos Padres was previously reserved exclusively for the production of Madeira Wine. Now, with the cable car that takes people down a 300-meter-high cliff, you can have a look at a truly unique scenery. There is a beach as well as a restaurant in the bottom. All cable cars can be found here
The eastern part of Madeira island looks nothing like the rest of the island, as it actually conveys the feeling one is walking on a completely different planet. This is visible from the presence of dry Atlantic vegetation on the peninsula. You can either follow specific trails or walk around as you wish. Just be careful not to get too close to the cliffs!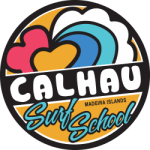 The black sand Alagoa Beach in Porto da Cruz is the beginners' place of choice. The Surf school is very knowledgeable and friendly. The offer lessons and rent the complete equipment. The Baia dos Juncos in Sao Vicente is the most consistent surfing spot on Madeira but it is maybe not as suited for beginners. Surf gear can also be rented at the Baia de Juncos. Paul do Mar and Jardim do Mar on the south coast are also well-known surf spots. You can find all of the surf spots on the interactive map.
Stand up Paddle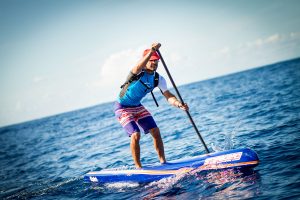 SUP supposedly originates on Hawaii but you can practice it on Madeira as well. Two places rent them: The Calhau Surf School in Porto da Cruz and the Clube Naval de Seixal. The clube naval also rents kayaks. Also check out the Sao Vicente Clube Naval for SUP and Surf information.
And many many more …
Should the weather not play along, then have a look at our selection of great activities for a rainy day.