Madeira Digital Nomads
Madeira Digital Nomads
Madeira Digital Nomads
There has been some talk and many articles about digital nomads and Madeira lately. Such as 1, 2, 3, But first, what is a digital nomad?

Digital nomad? Definition
Being a digital nomad is a lifestyle. The person works online while travelling. Mostly these nomads stay in place for some time to totally enjoy and discover the place before packing up and moving to the next destination. Some digital nomads do not settle down and travel the world from one internet connection to the next. Hence the later group actively travels. However most digital nomads tend to settle for a little while in one place.
Digital nomad jobs
A digital nomad job is any employment or profession that can be done while changing places regularly or even travelling. Typically, these jobs are digital jobs, as in solely relying on a good internet connection.
Here are some examples: Copywriting, Virtual assistant, social media manager, E-commerce or E-shop, video or picture editing, teaching languages, translation, website building, data entry, monetized blogging, programming, transcriber, website tester etc.. It can also be any part-time or full-time job for a company that allows you to work entirely remotely.
Remote working
During these weird times, many of us are working remotely. Most of us work from the comfort of our homes. However, why not use this time to discover a new country and work just as well from there? Many tourist destinations are trying to attract digital nomads to somehow make up for the lack of tourists.
This will come as no surprise but monthly working from home costs vary greatly between locations. Another consideration might be more bureaucratic like obtaining a visa.
Paradise islands offering special digital nomad visas?
You are fed up with sitting at home. Or maybe you have always travelled around and are looking for your next place to call base. Hence, here are some ideas …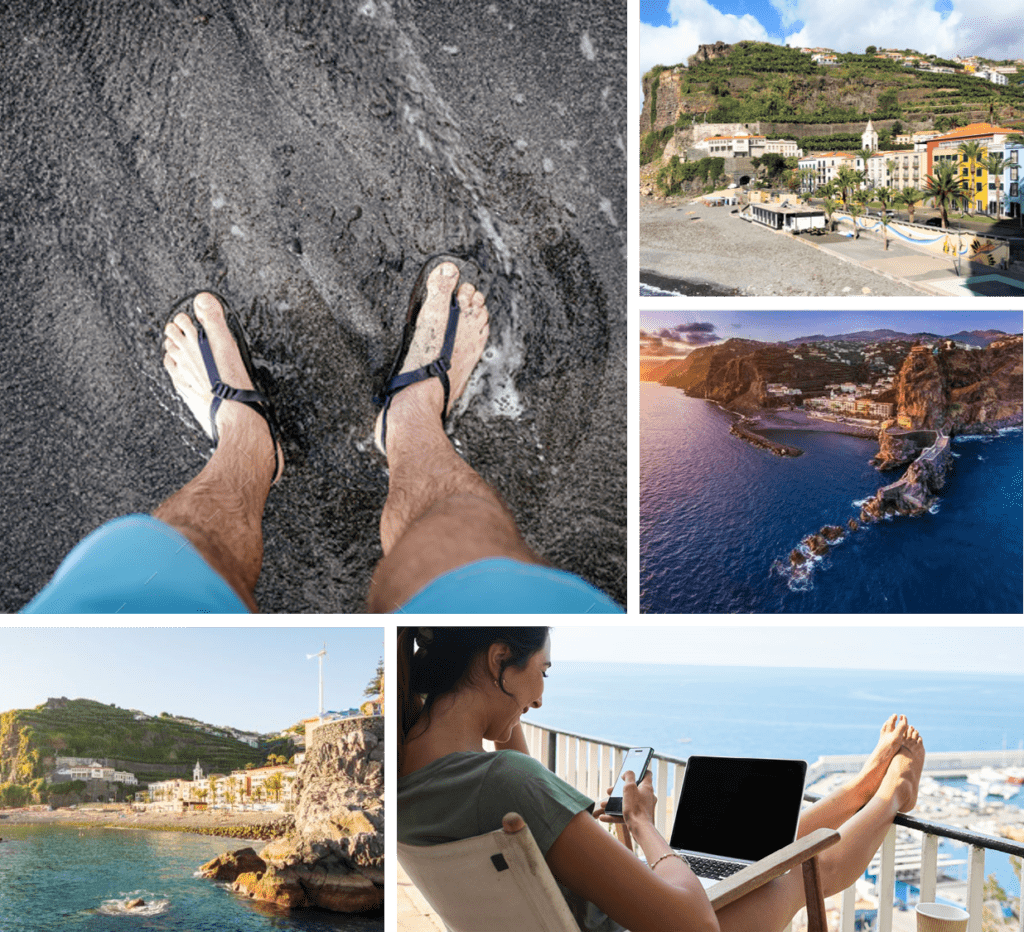 Tourist visas often expire after 30 to 90 days and it is not always easy to renew them. Why not stay longer? Some countries recognize the need for specific digital nomad visas aka remote work visas or freelance visas.
Antigua & Barbuda just announced a digital nomad visa called the Nomad Digital Residence. You need to earn at least 50.000USD per year and have a full travel health insurance amongst others.
Barbados welcomes digital nomads with its special 12-month visa for remote workers, the Barbados Welcome Stamp. The same goes for Bermuda, Cayman Islands or Mauritius etc.
Portugal and Madeira. Portugal and thus Madeira offer both a resident visa and residence permit for independent workers and entrepreneurs for one year. This visa is renewable for up to 5 years. The conditions are as follows:

Proof of income from property, proof od business ownership or proof of financial means.
The applicant must earn 600EUR per month. This amounts to 7.200EUR per year. Thus, quite a bit less then for the previously mentioned islands.
Proof of a private travel health insurance
Criminal background check.
Fill it out, print it and gather all documents and go to your nearest Portuguese Embassy or Consulate.
Madeira Island is proud to open the first specific digital nomad village in Ponta do Sol. You can read all about it here and register for your spot in this new concept.
Since working from "home" is the new normal, why not work from Europe's Leading Island Destination?
Covid-19
We do not encourage people to travel during these testing times. This article is purely informational.