Recipe: Pitanga Mousse
Recipe: Pitanga Mousse
Pitanga mousse
Pitanga Mousse. During your visit to Madeira, you will probably notice the presence of pitanga fruit in local gardens. Consuming this fruit provides various health benefits, partly because of its anti-inflammatory and antiviral properties. If you've been wondering about any recipes where you could include the pitanga fruit, look no further!

Here is a recipe (for 4 servings) that you can follow to serve a uniquely Madeiran dessert based around one of the main fruits of the archipelago.
Ingredients for the mousse: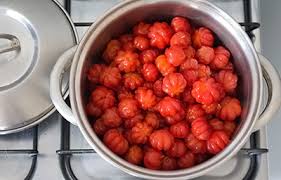 500g pitanga pulp (frozen or home made)
250ml of condensed milk
250ml of cream
1 packof powdered gelatin (neutral flavor)
Ingredients for the sauce:
250g pitanga pulp (frozen or home made)
50g of sugar
the juice of one lemon
Preparation
Sauce: You will first start by making the sauce. Place the all sauce ingredients listed hereabove in a saucepan and let simmer on medium heat. Once reduced by half, empty the saucepan in a bowl and let cool. Then place in the refrigerator.

Mousse: You will then start making the mousse. After defrosting the pitanga pulp (if frozen), place the pulp in a pan and sprinkle the powdered gelatin over it. Stir the pulp and gelatin gently and then leave to stand for 10 minutes. Afterwards, place the pan on low heat (do not boil). Turn off the heat once the gelatin is dissolved with the pulp. Pour the contents of the pan in a blender beaker and add the condensed milk and cream. Mix the ingredients together. Then, let the mixture cool in glasses or bowls. Afterwards, put in the fridge for at least 90 minutes.

Enjoy: Take the mousse and sauce out of the fridge. Add the pitanga sauce on top of the mousse, and serve!
There are many more interesting recipes to be found here