Recipe: Bolo de Caco
Recipe: Bolo de Caco
Recipe: Bolo de Caco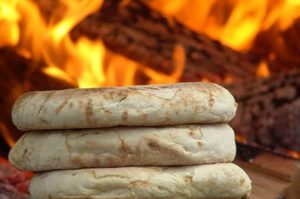 The Bolo de Caco is a must try for all visitors to Madeira Island or Porto Santo.  It is vegetarian circular muffins-like bread and can hence be appreciated by nearly everyone.
They are made with a mixture of sweet potato and wheat and are cooked on a basalt stone slab over a wood fire.  This slab is called: caco. Bolo normally refers to a cake but here it points to the round flat shape of the bread.
Some prefer it pure and just tear off a piece, some stuff it with seafood or meat specialties but it is mostly served hot with melted garlic butter.
If you do not have a basalt slab, cooking tile or open fire at home, you can use a heavy pan on your electric or gas stove.
Ingredients:
1 kg of flour
750 g of sweet potatoes
25 g of baking yeast
1 pinch of salt
150 ml of water
1 big mixing bowl and 1 small mixing bowl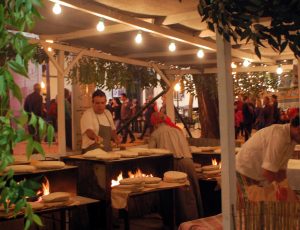 Preparation:
Peel the sweet potatoes
Bake them in hot water
When soft, reduce them to mashed potatoes or purée
Mix the yeast and the water in the small mixing bowl. Add the pinch of salt
Pour the flower in the big mixing bowl. Make a hole in the middle and incorporate the sweet potato purée while adding the water/yeast/salt preparation.
Mix it all together very well.
Sprinkle some extra flour over the dough ball and cover the bowl with a large clean dish towel.
Let the dough rise for 2 to 3 hours.
Once the dough has risen, cut it in even size balls on a floured surface.
Flatten the dough balls to form circular muffin-like shapes (diameter of 10 to 15 cm) with a thickness of approximately 2.5 cm.
Cook them on a slab over an open flame, or in your pan. Once you have the desired colored crisp crust, turn them around and cook the other side.
Serve the Bolo de Caco warm. Slice them open and fill them with garlic butter, meat skewer pieces, a steak, octopus, espada filet, marinated pork …
Bon Appetit!