Solar do Aposento – Ponta Delgada
Solar do Aposento – Ponta Delgada
What is the Solar do Aposento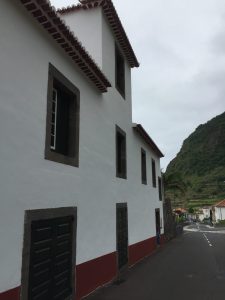 This Solar (Portuguese for manor house) is located at
Ponta Delgada.
It was just recently opened to the public (spring of 2018) by the municipality of
Sao Vicente
.  Aposento meaning retreat, a visit to this well preserved manor takes us back to the 19th century.  At the time Ponta Delgada was the playground of the aristocracy from Funchal.  During the hot summer months they would escape the sweltering heat in Funchal.  In Ponta Delgada they enjoyed slightly cooler air at their Ponta Delgada retreat or 'Corta do Norte'.   Until her death, the owner of the house was Senora D. Maria Hilaria Diniz Abreu de Freitas.  As part of her testament, she donated the house to the autonomous region of Madeira.  The purpose was to convert it into a museum displaying her art collection, as well as documenting some of the traditions and culture of the island.
What there is to see at the Solar
We recommend a visit to the Solar do Aposento if you have a taste for history or if you like ancient objects.  Also, in case you want to learn more about what life was like until recently for the aristocracy or their servants in a typical solar.  You can visit the courtyard with its wine press and dependencies, or walk through the exhibits in each of the house's rooms.
The inside of Solar do Aposento
Here we will try to give you more of what you can expect to see during your visit: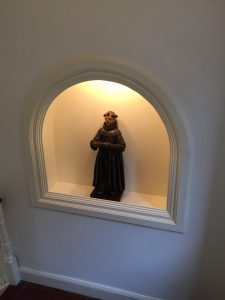 After accessing the main staircase, featuring a 17th century sculpture of St. Anthony, you will walk into a formal reception room. A beautiful 18th century mirror in carved wood catches the eye. The reception room, which retained its original architecture, also contains 19th century English and Madeiran furniture. The living room is the central space of the house. Noteworthy are the original Madeiran chestnut wood floors, and the mingling of 18th century English Chippendale furniture and its heavily influenced Portuguese and Madeiran counterpart.  Various foreign and local paintings are of interest also.  In the foyer room, several paintings from Max Römer are worth a stop. The kitchen and adjacent informal living room feature three Madeiran
Sugar Box
cupboards,  an 17th century exotic chest originating from Goa, and various other pieces of antique furniture.  In excellent condition, is a double oven made of tuff volcanic stone, and dating from the middle of the 18th century.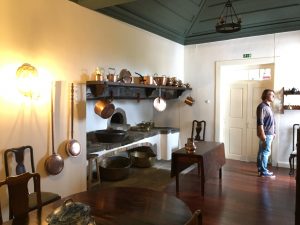 How to get there
And here's how to get to Solar do Aposento from Funchal. Exit the main Ponta Delgada roundabout, and you will stumble right on the Solar.
Hotels and accomodation in Ponta Delgada