Madeira Wine History
Madeira Wine History
Madeira Wine History
Of all the produce of Madeira, none is as famous as the wine that bears the island's name: Madeira wine.  Madeira island began producing wines in the 17th century.
Wine owes its characteristics to a round trip at sea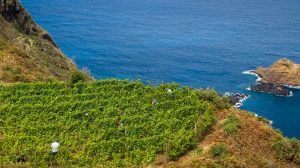 But the unique quality of Madeira wine is generally accepted to be the result of a lucky accident that occurred long ago.  It happened that a cargo of wine left the island in a ship bound for the East Indies.  A year or so later, the cargo, still unsold, returned to Madeira.  Surprisingly, the islanders discovered that the wine had improved greatly during the long hot months in the tropics.
What could cause the improvement?  The rocking of the ships or the warm temperatures.  After some experiments, it was concluded that the gentle heating of the wine barrels in the sun gave Madeira wines its special flavours.
The wines were transported across the equator and back.  These were known as "Returned Wines" or "Indian Circuit Wines" until 1794.
Estufajes
In 1794, Madeirans developed a process called estufagem (estufo = hothouse) to reproduce the effects of the voyage through warm seas.  The wine is put in special tanks and heated gradually to imitate the sojourn in the hold of a ship in the tropics.  It is kept at that temperature for three to six months, and then, very slowly, allowed to cool.  Afterwards, it is aged in vats for a minimum of four years
Canteiro
Canteiro is another way to obtain Madeira wine.  It is a much slower method where wines barrels are stored in the attic (called lodges) mostly under tin roofs to heat slowly.  The barrels are then rolled from warmer to cooler locations in the lodges depending on age and maturation process.  This method produces higher quality Madeira wines.
Another "accident" created what is referred to as Rainwater Madeira.  Sometimes, barrels of wine soaked in rainwater on the vessels which in turn created a lighter Madeira.  This is the style that sells best in the United States of America.