Madeira at Christmas
Madeira at Christmas
Unlike what some would believe, the wintertime remains an ideal moment to visit the archipelago. It is the perfect moment to witness Madeira at Christmas. When it comes to Christmas, Madeira goes all out! During the festive season, Madeira island is completely covered in lights, which conveys for a truly magical atmosphere.

Video of Funchal Christmas lights
Madeira – a winter wonderland
Starting December 1st, Madeirans switch on the lights in the city center of Funchal. The city transforms into the Atlantic's winter wonderland and is no longer simply Madeira's capital. Locals decorate each street differently. A multitude of decorations of all shapes and sizes are also scattered across town. This truly to conveys the magic of Christmas. Take a walk on the Avenida Arriaga to fully take it all in and get into the Christmas spirit immediately.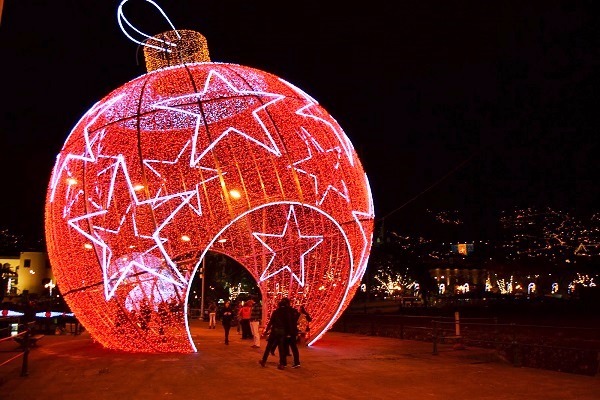 Madeira's Christmas markets and events
Madeirans tend to take the winter holiday season very seriously and consider December to be the "Festa" month. On the 23rd of December, an event called "Market Night" takes place in the capital and other cities. Head to the Mercado dos Lavradores to observe the locals doing their last-minute Christmas shopping. You will also discover beautiful flower and fruit stands. If the capital's market is too busy, you can also check out the markets in Ribeira Brava, Santa Cruz, Machico and Estreito de Câmara de Lobos. On the 24th of December, the churches hold a Midnight Mass for the citizens of Madeira.
After spending Christmas in Madeira, you will only want to stay for the New Year's Eve celebration!

Merry Christmas to all.