Sarah Forbes Bonetta
Sarah Forbes Bonetta
Sarah Forbes Bonetta
Whenever we pass by the British Cemetery in Funchal, I always think of the eventful life of Sarah Forbes Bonetta. You are probably wondering why as this name probably does not ring a bell. Here goes the story.
African Princess
Born in 1843, Sarah Forbes Bonetta was an African Princess named Omoba Aina. She was a member of a West African dynasty, the Yorubas.
Slave of the King of Dahoney
Ghezo, King Dahoney killed the family of Omoba Aina during s slave hunt in the neighboring kingdom in 1848. Omoba Aina was captured. Two years later approximately, Captain Frederick E. Forbes of the Royal Navy saved her. His mission was to persuade King Dahoney to stop slavery. It was a failure. However, he convinced the King to let him take Omoba Aina with him to Great Britain as a "present" from a King to a Queen. The young child received the name of Forbes as well as the name of the ship ending her slave condition and thus bringing her liverty.
From "Present" for Queen Victoria to her Godchild
Captain Forbes returned to England and presented her to Queen Victoria. The Queen became very fond of Sarah and paid for her education and became her Godmother. Sara was a brilliant and admired student. She excelled in literature, arts and music.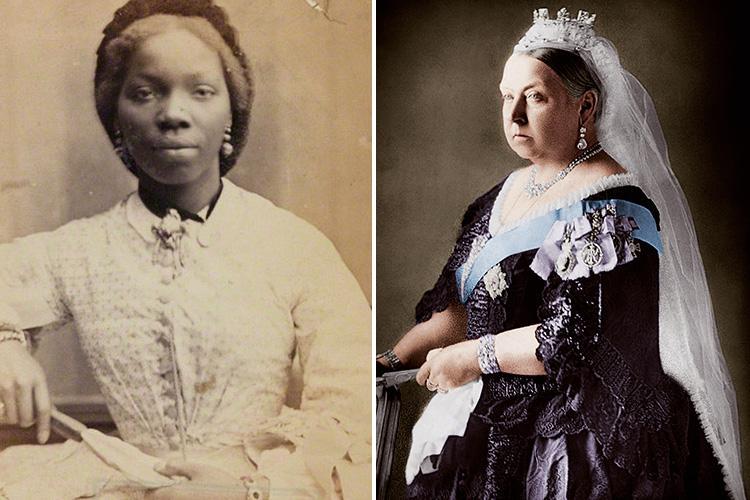 Marriage
James Pinson Labulo Davies proposed to Sara once she was 18 years old. He was already 31 years old and a wealthy businessman from Yoruba. They married in Brighton in August 1962 with the help and consent of Queen Victoria. Shortly after, a first daughter was born. Queen Victoria granted permission to name her Victoria as well and also became her Godmother. She went on to have two more children.

Death in Funchal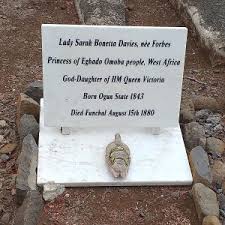 Sara had a persistent cough throughout her life. The differences in climate between West Africa and Great Britain probably did not help the situation. She was finally sent to Madeira in 1880 for convalescence when she was diagnosed with tuberculosis. Unfortunately, she died in Funchal that same year.

Her husband erected a granite obelisk-shaped monument more than eight feet high in her memory at Ijon in Western Lagos, where he had started a cocoa farm. The inscription on the obelisk reads: