Recipe: Rebuçados de Funcho – Fennel candy
Recipe: Rebuçados de Funcho – Fennel candy
Rebuçados de Funcho – Fennel candy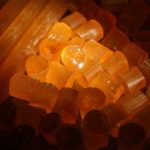 This artisanal, pale orange colored cylindrical candy has the name of Rebuçados de Funcho. This candy is typical of Madeira Island. Its name comes from the plant at the basis of this confection, namely fennel. The plant is very abundant on the Island, particularly in the Funchal area.
Funcho – Zarco – Funchal
History tells that when the archipelago was discovered and João Gonçalves Zarco landed there (15th century), he was impressed with the predominant yellow of the flowers of this bush. The abundance of fennel in the bay led Zarco to designate the first settlement in Funchal. Subsequently, Zarco gave the name of this plant to its now capital city. Fennel translates into Funcho in Portuguese. The rather easy recipe was therefore created a long time ago for two reasons. First to take advantage of the health benefits of fennel. Second to use the large amounts of fennel available on the island.


Sweet Candy with Health Benefits
Over time, fennel candies have become a reference in the archipelago, being currently one of the most sought after sweets by locals, and tourists alike. Sold in small plastic bags, and the candies are not individually wrapped.

For most Madeirans this candy is a delicacy. Locals use the rebuçados to sweeten tea or to slowly let it melt in a glass of aguardente. Given the health properties of fennel, locals use them as cough relief.

Seeming easy at first sight, its preparation requires skill and practice. The sugar paste must be worked (rolled etc) when still hot. Furthermore, the hot paste must be homogeneous and smooth. Ready? Let's try!

Ingredients:
1 kg of sugar
10 g of natural fennel essence
500 ml of water
Confection:
In a medium saucepan, stir together the sugar and water.
Cook, stirring, over medium heat until sugar dissolves, then bring to a boil.
Add the natural fennel essence.
Without stirring, heat to 125 to 140 degrees Celsius, or until a small amount of syrup dropped into cold water forms hard, brittle threads.
Remove from heat.
Pour onto a greased cookie sheet
Let it cool a little and pull pieces, giving them the shape of long sigars, the width of a finger.
With sharp blows of a knife, break cigars into cylinders approximately 3 cm long.
Store the candies in airtight boxes.
You can find many other typical recipes on our website, why not have a look?