Madeiran Roots in "The Kiss"
Madeiran Roots in "The Kiss"
"V-J Day in Times Square" but is known to most as "The Kiss"
Roaming the streets of New York, a photograph set out to catch the atmosphere of V-J day (Victory over Japan – end of World War II in the USA on 14/08/1945). His photography of the kiss captured that fleeting moment of passion, joy and exuberance.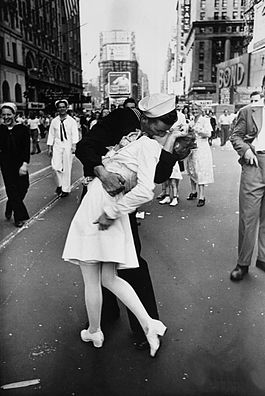 Iconic 20th Century Photography
The photographer immortalized a sailor, grabbing a nurse by the waist and tilting her back to kiss her. It portrays unbridled joy and relief. Alfred Eisenstaedt's picture is the most famous and most reproduced 20th century picture. The Times Square kiss is an iconic picture.
Madeiran Roots
You are probably wondering why you come across a blog post about "The Kiss" in a blog on Madeira Island. Well… because this famous sailor George Mendonsa is "Made in Madeira".
One of five siblings, George Mendonsa was born in Newport, Rhodes Island. However, his parents Arsenio Mendonsa and Maria DeSa, were immigrants from Madeira, Portugal. George and his family lived mostly on Portugee island, a small rocky island off Newport, Rhode Island. Every person living on that island was born on Madeira or from Madeiran parents. Hence the name: Portuguee Island.
The nurse on the picture, Greta Friedman, explains in a 2005 interview, that George grabbed a nurse out of sincere gratefulness. George Mendonsa, a marine, had witnessed war's atrocities first hand.
Sadly both Greta Friedman (1924-2016) and George Mendonsa (1923-2019) passed away.