New Tourist Entertainment Calendar Released
New Tourist Entertainment Calendar Released
Tourist Entertainment Agenda
Mark your agendas, the Board of Tourism has released the modified tourist entertainment calendar for 2020. Hence, the Madeira Tourist Board organizes these activities principally for tourists. If you would like to witness or participate in events organized across the island for Madeirans, please refer back to this blog post or to this one.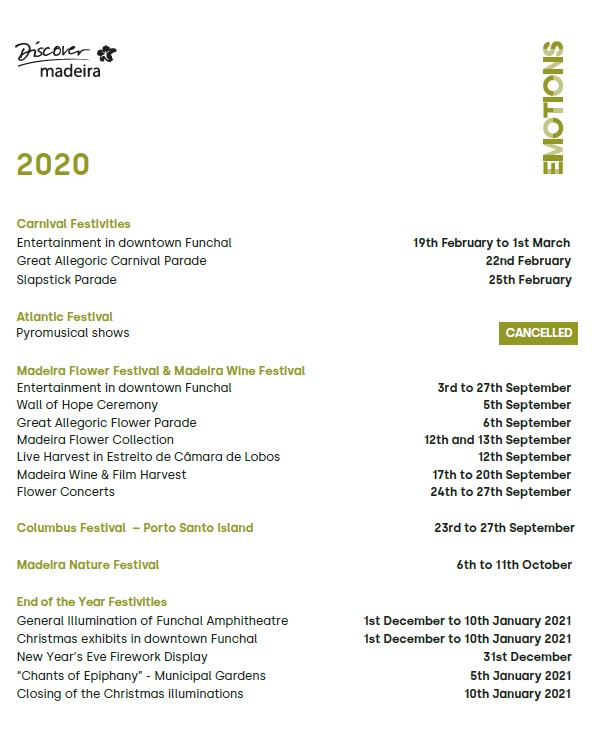 Changes
As you can see, the cancelled annual May Flower Festival will take place in September 2020. Consequently, only the date changes. The much sought after even will take place albeit later.
The Atlantic Festival will not take place in 2020 unfortunately. Do not worry it is on the 2021 program.
If you want to see a planning of less major activities on the Tourist Program which are nonetheless fun and interesting, have a look here
Madeira is waiting for you…
Please rest assured that Madeira, all of its infrastructures, stunning nature and activities are waiting for you once the covid-19 is mastered.
The motto is "STAY HOME NOW. DREAM ONLINE. VISIT US LATER!". If you have not seen it yet, Madeira asks you to stay home and safe for now. However, do dream online and peruse this blog. And please do not forget to plan your next trip to Madeira and visit us. We await you with open arms!
De braços abertos! Bem-vindo à Madeira!