Fajã dos Padres
Fajã dos Padres
This remote area of cultivated land adjacent to the ocean, once unknown, is now a popular place on Madeira. Unlike the Fajã da Quebrada Nova in Achadas da Cruz, the Fajã dos Padres can be a really busy place in Summer.
Fajã dos Padres lies by the sea, at the bottom of a smooth, vertical and flat rockface, of around 300m in height. This small area of cultivated land (known as a fajã) is situated just west of Cabo Girão on Madeira's south coast.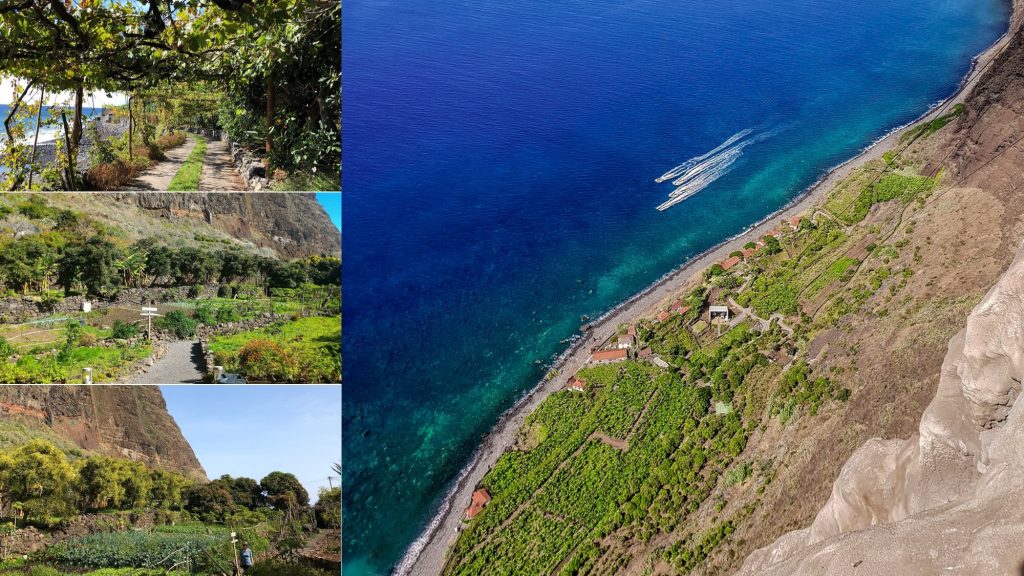 Cable Car or Boat Trip
There are two ways to reach this idyllic and historic place. The first one is a drive along the Via Rapida (ER1) to Quinta Grande, exist 3. There a new cable car, inaugurated in 2016, awaits the brave … with its near vertical 300 meters 2 and a half minutes descent. It operates everyday all year around from 10.00 to 19.00 in the Summer and from 10.00 to 18.00 in the Winter. The price is 10 EUR per person. Children under 11 years are free.

If you are afraid of heights, do not like cable cars, or do not have a car, you can rent a water taxi from Funchal. Other boating companies also offer excursions to Fajã dos Padres.
For example this one but there are many more departing from the harbor of Funchal.
History
Fajã dos Padres's history goes back to the 1700s when priests of the Company of Jesus lived on this fleck of land for over 150 years. Hence, these priests gave it its name: Fajã dos Padres is similar to land of the fathers / priests in English.
The present owners Mário Jardim Fernandes and his wife Maria Isabel are the guardians of this special place. Maria Isabel inherited this land from her grandfather who bought it from a noble family in dire need of liquidity. They transformed it into a bio eco organic farm with more than 20 different kinds of fruits and grapevines. Bananas, passion fruit, avocados, anonas, pitangas, figs, nesperas, papaya, guavas and many more grow happily.
Authentic Malmsey Grapevines
In this lush garden, you will find the one and only true Malvasian (Malmsey) grapevine plants from Madeira. Some even say that Fajã dos Padres is the true birthplace of wine making on Madeira.
Maria Isabel was fortunate enough to marry a son from a wine making family of Sao Vicente in the North of the island. Sr Fernandes is passionate about his grapevine. Ampelography, the identification of grapevines, helped with new DNA analysis shows that the Malmsey plants found in Fajã dos Padres are different from all other ones grown on Madeira island. Hence, the Malmsey grapevine is the only true descendant of the 16th century first Malvasia grapevines planted on the island, the so-called Malvasia Candida. This is the sweetest of all Madeira sorts.
Sr Fernandes multiplied with much labour, care and passion his original Malvasia Candida. He now owns one hectare of this gem of a grapevine. Being registered as a hobby winemaker, Sr Fernandes cannot produce more than 250 liters per year. Each liter is produced by hand and with love. If you are a Madeira wine connoisseur or aficionado, then a trip to Fajã dos Padres, regardless of the beauty of the place, is an absolute must. Make sure to make an appointment with either Mário or Isabel to tour the wine cellar.

Pebble Beach, Restaurant and Lodgings.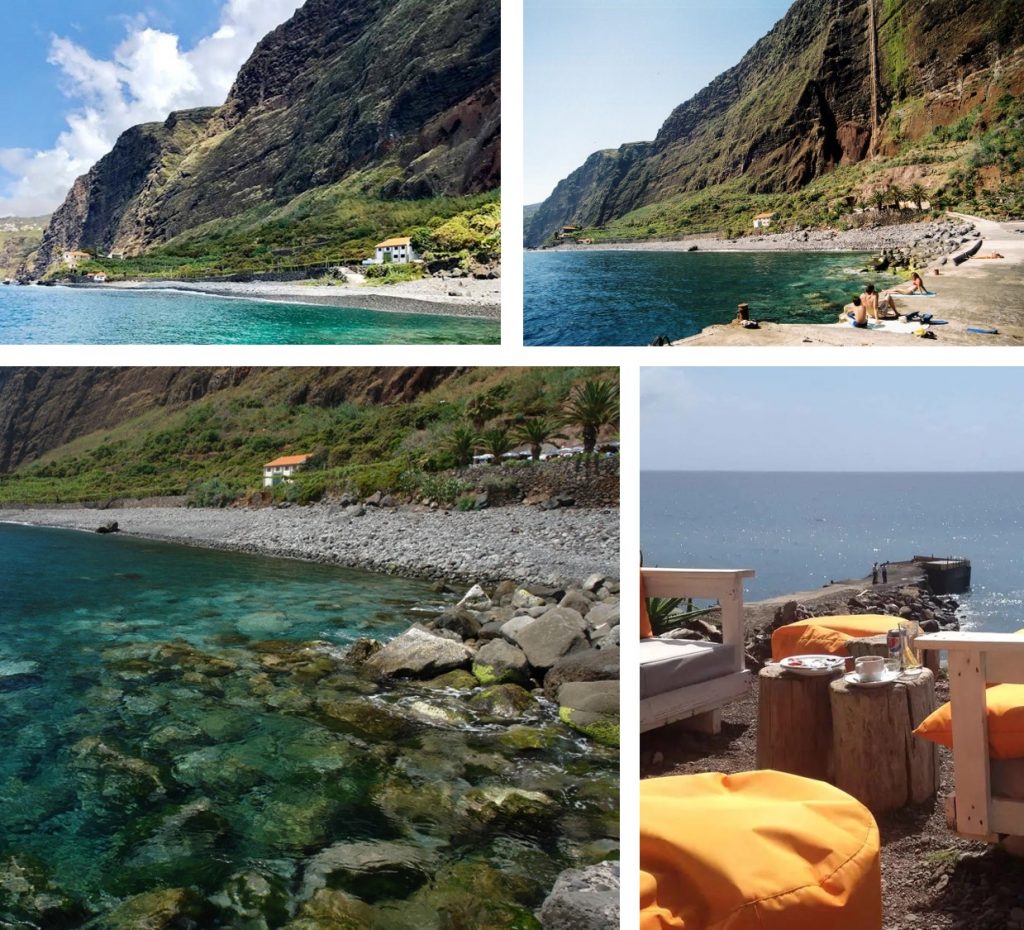 Most tourists and locals come to Fajã dos Padres for a day. They walk around, enjoy the ocean, relax and have a bite to eat.

There is a restaurant at Fajã dos Padres as well as vacation rentals / bed and breakfast. Beware, it tends to be quite busy in the Summer since locals and tourists alike love this place.
How to get to Fajã dos Padres