Coasteering on Madeira
Coasteering on Madeira
What is coasteering?
Coasteering is a fun outdoors activity where participants progress along a rocky coastline. This involves following the coast either by foot or by swimming, and includes jumping, climbing and scrambling. It is a great activity for those who like the occasional adrenaline rush as well as for those who enjoy caving, climbing and swimming. Nature lovers will of course enjoy this activity as well, as some coasteering trips are organized for ecological study purposes and expose participants to various land and marine creatures.

Basic equipment for this particular activity usually includes: a full-body wetsuit, protective gloves, a helmet, buoyancy aid and shoes providing grip. This attire will prevent you from dealing with hypothermia and drowning and will protect you from potential impacts with rocks.
Coasteering on Madeira
The rocky cliffs of Madeira make it a perfect spot for coasteering adventures. What makes this activity so special, is that it allows you to approach Madeira's beautiful landscapes from a different angle. Visiting Madeira gives you the option to try coasteering in the warm waters of the Atlantic Ocean.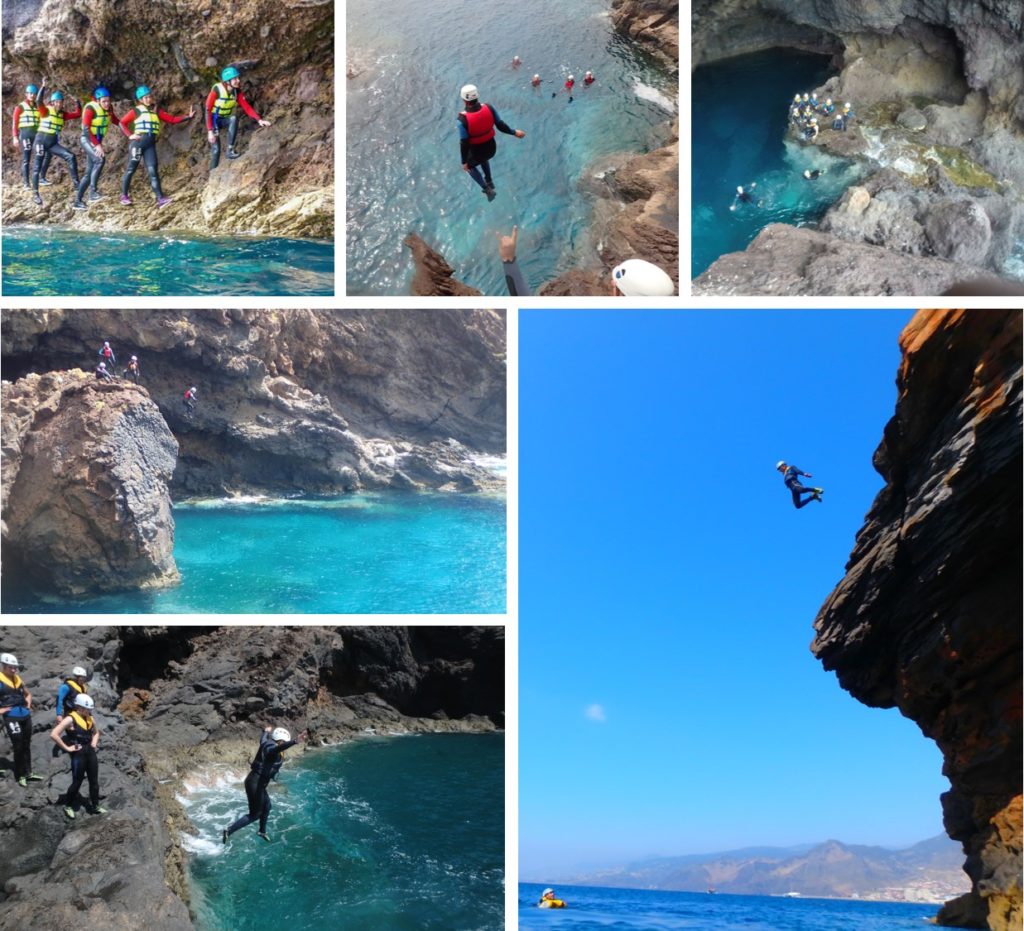 On Madeira, coasteering tours usually last between 2-3 hours. However, this of course depends on the tour you choose to go with. Coasteering tours are guided by qualified instructors who explain the procedures and safety protocols to the group. High jumps are often optional, with guides providing alternative options to group members who would rather stay on the safe side. If you do take the opportunities to jump in the ocean, you will deal with relatively strong waves and will
Even though the tour will be easier for you if you are fit and are used to taking part in similar activities, coasteering is still mostly accessible regardless of your level of sportiness. Do share your concerns with the companies listed here below before booking. Overall, it is a great experience which will definitely get you out of your comfort zone!
General information
Here are some of the groups on Madeira offering this fun activity: