Healthy and Peaceful Holidays
Healthy and Peaceful Holidays
Healthy Holidays
We live in an ever busier, connected, stressful and complex world and sometimes we need to find a way to re-connect with ourselves and our inner-being…. or simply, a way to switch off.  A healthy holidays is no longer a luxury.
From the waterfalls and levada in the Laurisilva Unesco Heritage Forest to the clear waters of the Island, Madeira is the perfect healthy holiday destination.
Experience the rest and silence of Madeira's tranquil north Coast and escape the hassles of daily life in one of our properties.
MadeiraCasa in picturesque Boaventura
Experience the beautiful tranquility of MadeiraCasa.  Particularly noteworthy, the property is not accessible by car.  Hence, you hear the ocean, the trickle of the levada and birds…  There may be some friendly locals walking by as they come back from their fields or a few walkers.  This house and its garden ooze a calming vibe.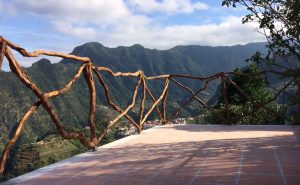 The views are picture postcard perfect.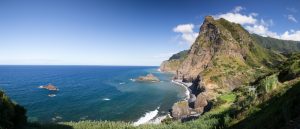 Most Madeira Travel guides actually use this exact view on their covers.  So if you are looking to escape to an idyllic place, MadeiraCasa provides the picture perfect backdrop for your holidays.
MadeiraCasa is synonym to peaceful escape all year around.  However, there is one exception! During religious festivities, the entire village wakes up from its beauty sleep and party, devotion, traditional food and music are lived to its fullest.
Casa do Miradouro in Ponta Delgada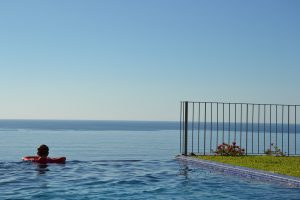 Flee from your (hectic) daily life at Casa do Miradouro.  Watching the play of sky and ocean alone against the majestic mountain range alone will help you experience relaxation.  Revive your senses while swimming in the infinite pool where a flower of life accompanies you.  Reconnect to yourself or your partner in the jacuzzi.  Experience wellbeing and inner calmness in the infra-red sauna after a long levada walk.. Casa do Miradouro will help you find the balance between mental, physical and spiritual wellbeing.
As for Boaventura, Ponta Delgada is also a peaceful village except during the Arraial do Sehnor Bom Jesus.  Most noteworthy, this arraial is one of the most famous of the entire island and it takes place each year during the first weekend of September.
In addtion, both casas have either been built or renovated using bio/eco products for an all-around fabulous and healthy holiday.