What is the Pico Ruivo?
Pico Ruivo is the highest peak on Madeira. Pico Ruivo is 1,861 metres (6,106 ft) high and provides some of the most incredible views of the island from coast to coast, but unpredictable weather conditions can make it quite dangerous. It can be reached only by foot, usually either from Pico do Arieiro (3rd highest) after a strenuous hike, or from Achada do Teixeira with a shorter, easier trail. There is an additional trail leading west. A hut just below the summit is permanently closed but there is water tap and toilets available.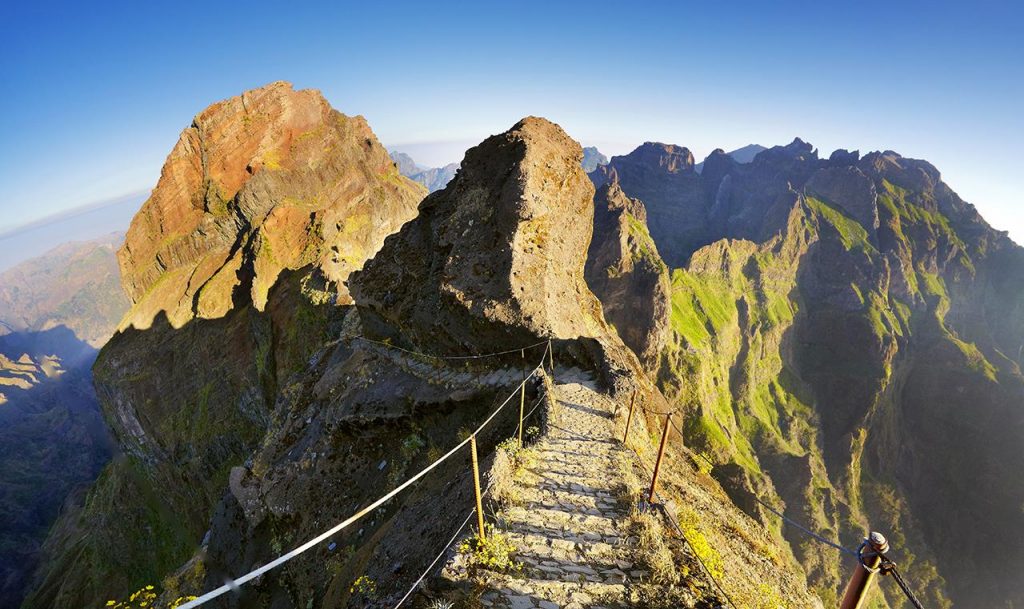 How you can get to Pico Ruivo
The climb to the top of Pico Ruivo provides for a challenging hike and there are two excellent routes of varying degrees of difficulty.
The hiking route from Pico do Arieiro to Pico Ruivo is the most popular and more challenging course. The hike starts at the summit of Pico do Arieiro (easily accessible by car, third highest peak of Madeira). The route is not for the faint hearted. It traverses steep ridges, passes through tunnels and tackles some seriously steep slopes. The round trip takes around 5-6 hours and covers 12km.
The second route is much easier. You can access Pico Ruivo from the east through the village of Achada do Teixeira, driving all the way up to a large car park. The drive in itself is good fun, with many viewpoints along the way. In this case the round trip takes between 2.5-3 hours but still climbs up 300 meters over the 3km route.
Why would you want to go there?

Hiking to the top of this pico is really great. The continuous uphill hike is a bit challenging, but the path is nicely maintained all the way to the top. This hike is exhilarating and exhausting. You absolutely need to take water bottles with you. Once you arrive on top, you will admire a most impressive 360 degrees view, which combines an endless ocean, white long clouds, and dramatic cliffs. Just feels and looks like you reached the top of the world. The weather of Pico Ruivo is very variable so always plan for the worst.