Cabo Girao Viewpoint
Cabo Girao Viewpoint
What is Cabo Girao?
Cabo Girao Viewpoint is impressive.  It is  located about 2 km west of Camara de Lobos. Cabo Giroa Viewpoint sits on the highest sea cliff (580m) in Europe (second highest in the world).  Since its renovation in 2012, a suspended glass platform, or skywalk, adds to the thrill.  The platform is similar as the one looking over the Grand Canyon in the US.  Hence, the place offers fabulous views of the Southwest Coast with the bay of Camara de Lobos.  Furthermore, it has even been listed by Conde Nast Traveler as one of the 5 cliffs in the world which rival with the Grand Canyon.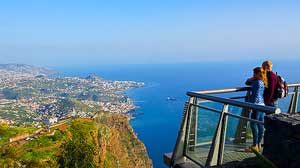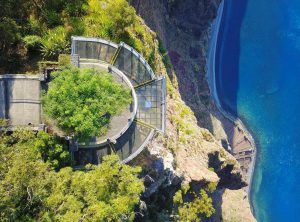 Cabo Girao viewpoint lies between 2 valleys with river mounds into the Atlantic.  The view to the foot of the cliff, a small area of farmland that the locals call "Fajãs do Cabo Girão" is one of the most taken photographs on the Island.  The piece of land below is accessible by cable car (the Rancho Cable car).
Historians attribute the name Girão to the explorer João Gonçalves Zarco.   He allegedly used the term 'turn' or 'Girão' as a reference point on the first day of exploration of the coast of Madeira.
Nearby, just above the viewpoint, there is a Chapel and pilgrimage site by the name of  Nossa Senhora de Fátima, surrounded by forest.
Cabo Girao is also known to be a perfect spot for paragliding and base jumping.
Entrance Fee
Since March 2023, you need to pay a fee of 2,- Euros to walk on the platform.  Children under 12, disabled visitors and residents do not pay this entry fee. If you are a resident of Madeira or Porto Santo, please follow instructions on this website before visiting.
How to get to Cabo Girao
The map below shows how to get to Cabo Girao from the Quinta Grande highway exit.